Pair of Mt. Kisco Water Main Projects Approved By Village Trustees
We are part of The Trust Project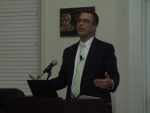 The Mount Kisco Village Board voted unanimously last week to approve a water main project for a portion of Route 117 and water main and drainage improvements on Mountain Avenue.
Trustees accepted a $700,074 bid from Legacy Supply LLC for the Mountain Avenue work and also a bid from MTS Infrastructure LLC for the Route 117 work. The latter project will be broken into two pieces – $1,883,715 for parts and labor and $6.9 million to replace the main under North Bedford Road from Preston Way to Green Lane.
The village hopes to have Con Edison wait to repave North Bedford Road until the water main work is completed, which would save Mount Kisco about $2 million by not having to re-open the roadway.
Con Edison opened up North Bedford Road last fall for gas line installations for businesses in Bedford and Mount Kisco. The work disrupted last year's holiday shopping season for merchants in close proximity for the utility's work.
Mayor Gina Picinich said the village has been working with Con Edison and the state Department of Transportation (DOT) on coordinating the road repaving. Picinich said village officials want to move forward and complete the water main installation as soon as possible.
Officials are looking to finish the water main work by late October. Village Manager Edward Brancati said the village hopes to have Con Edison repave North Bedford Road before winter.
After the water main work is done, the village plans to install new pipe sleeves under the adjacent sidewalk. All work on North Bedford Road will be done at night, Brancati said. While some traffic delays are expected, opting for night work should reduce congestion, Picinich added.
Brancati said the infrastructure work is part of a series of water projects officials are pursuing throughout the village in the coming years that will cost up to an estimated $20 million. The work will be paid by borrowing through 20-year bonds.
The village is also looking to help offset the cost of with grants from various sources, Brancati said.
Some of the future projects include a water main replacement under Byram Lake Road, upgrading the village pump stations and filtration plant as well as potentially creating new wells, Brancati said.
Work on all water improvement projects is expected to be completed by 2022, he said.