Packed House for Westchester County 2013 Proposed Budget Public Hearing
We are part of The Trust Project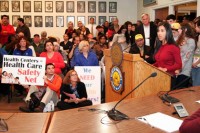 More than 250 people attended last week's public hearing on County Executive Robert P. Astorino's Proposed 2013 Budget, which was held at Mamaroneck Village Hall. It was one in a series of hearings that will be hosted by the Westchester County Board of Legislators (BOL), under the auspices of the BOL's Budget & Appropriations (B&A) Committee, chaired by Legislator Judy Myers (D-Larchmont).
Many county residents approached the podium to speak about their concerns on proposed cuts for parks programs, youth programs and the elimination all funding for neighborhood health centers in Westchester.
"I'm impressed that so many people would take the time to express their concerns about the spending decisions being made by the County Executive," said Myers in a release issued after the meeting. "Their input is an essential part of the County's budget process. The public knows we share their concerns, and it's both gratifying and humbling to hear them speaking from their hearts about issues that matter deeply to them."
A member of the County's Planning Department staff said at the hearing that personnel cuts would result in a "brain drain," and that laying off the department's only expert on flood mitigation, as the budget proposes, is especially foolhardy. Another county employee testified that staff reductions would hamper the ability to complete important ongoing environmental projects. A CSEA union member noted that one-third of those working for the County, many of whom have been targeted for layoffs, earn less than $40,000 a year and qualify for the assistance in the social services programs they are helping to administer.
Grace Beltran, representing one of the neighborhood health centers, noted that Astorino makes a point to speak some Spanish at public events but is now intending to cut programs that benefit low-income residents who are predominantly Spanish-speaking. Ellen Farrar from Westchester Community Opportunity Program (WestCOP) lamented the budget proposal's "wrong minded" insistence on raising the family share for subsidized childcare to unaffordable levels. And Julani Davis, a 16-year-old Greenburgh resident and one of several teenagers who defended funding for the Westchester County Youth Councils, said the program exposed him to a large range of issues in his community involving environmental awareness, prejudice and poverty, as well as how to tackle problems "head-on" and make a difference.
"Once the County Executive submits his budget, it becomes the 'people's budget,'" said BOL Vice Chair Lyndon Williams (D-Mount Vernon), in the press release. "Being able to fully gauge their concerns is the point of our open, transparent budget process, and I encourage all concerned Westchester residents and business owners to attend the next two public hearings or view them online."
During the first hearing on the County Executive's 2013 Budget proposal, held immediately after its release earlier this month, Dr. Grant Mitchell, Commissioner of Westchester County's Department of Community Mental Health, offered testimony that conflicted with staffing level information presented in the budget proposal.
Looking initially just at Department of Social Services (DSS) staffing, the 2012 to 2013 reduction in the proposed budget is 45 positions compared to 75 position eliminations as called out by Astorino during his budget presentation.
In a media release describing the discrepancy, BOL chairman Ken Jenkins (D-Yonkers) noted that the BOL has been grappling with bad numbers and a paucity of budget information since Astorino's first proposed budget in 2011, when the County Executive projected a $166 million deficit that turned, almost "magically", into a $67 million return to fund balance. Last year the BOL was not provided with the initial department requests in the 2012 Proposed Budget, as required by the County Charter, which hamstrung efforts to develop an adopted budget. The release also stated that this summer County Budget Director Lawrence Soule testified to the BOL that he had deliberately not included added salary costs in the Proposed 2012 Budget—a decision, he said, that he "lost sleep over."
"I hope these inaccuracies are mere flukes and that we do not see more of them during this budget process," said Myers. "Westchester County taxpayers, and legislators, deserve to know exactly what the spending and revenues figures are in this budget, and we already off to a bad start in terms of veracity."
In a similar statement further into the review process, the BOL expressed concern that while there was a section in the budget for capital expenditures on county infrastructure, there was nothing related to infrastructure repairs related to damage caused by Hurricane Sandy.
The administration did, however, send the BOL two bond acts for capital projects related to damages incurred by Sandy. One is a $12 million repair of the Yonkers Waste Water Treatment Plant and the other is for $1.8 million to repair various sanitary sewer infrastructures around the county. Both have been referred to the B&A Committee, where they were scheduled for review and discussion on Monday, Nov. 26.
The next public hearing that the BOL is hosting on the Proposed 2013 Westchester County Budget is Thursday, Nov. 29, at Cortlandt Town Hall in Cortlandt Manor. The hearing is set to being at 7 p.m.
Public discussions with County department heads and other staff members at the BOL's B&A Committee meetings began the day after the 2013 budget was presented to the public on Wednesday, Nov. 14. All BOL meetings are streamed live and archived on the BOL website, www.westchesterlegislators.com.