Pace Women's Lacrosse Team Impresses in Its Inaugural Game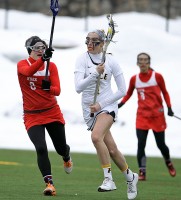 By Monica D'Ippolito – Not even first-year Pace head coach Michael Spinner thought his women's lacrosse team could produce such a dominant performance in its first game as a program. But after the first 30 minutes of action on Saturday afternoon, it was clear the brand new squad was here to stay.
"It was a 60-minute type of effort and I'm kind of shocked," said Spinner following the 15-5 drubbing of Nyack College. "I didn't think at halftime we would be as comfortable as we were, but it shows how capable we are.
Playing on a cold, overcast day at Mazzella Field on the campus of Iona College, the Setters gained their first possession off the opening draw, but had trouble finishing on the offensive end. About two minutes in, Casey Gelderman, who wound up with a team-high five goals, fired a shot that slammed off the post, delaying what would have been the program's first-ever goal.
"Of course it did that," Gelderman said of her first shot that caromed off the pipe. "But I was ready for the next one. I really wanted the first goal, but I said, 'figures.'"
It didn't take long after Gelderman's near-miss for Pace's first celebration of the day. Just a minute later, teammate Rachael Casasanta claimed the first goal in team history, beating her defender one-on-one and placing a shot low post past Warriors goalie Madeline Barbarino to give Pace a 1-0 lead.
Spinner liked what he saw from his players right after Gelderman's bid for the initial goal. "They pounced on the ball," he said, "got it back and we got a goal pretty quickly. I was really encouraged by all that."
Gelderman managed to net the second goal of the game seven minutes later when she collected the rebound of her own shot and slipped the ball past Barbarino. Gelderman later took advantage of another rebound, this time on a shot from Casasanta, and buried it again past the Nyack goalie, giving the Setters a 5-0 advantage.
The freshman captain beat Barbarino once more in the half at the 6:45 mark, capitalizing on a free- position attempt on the center hash and burying her shot low post.
"I've been working really hard, so I knew I wanted to come out with fire," said Gelderman, who was a high school standout on Long Island. "I wanted the ball in my stick after every draw and I really wanted it."
Goals by Emily Ankabrandt (11:22), Courtney Sulfaro (10:43, 9:03) and Angela Kelly (2:22) gave Pace, which outshot the Warriors 27-6 over the first 30 minutes, a commanding 9-1 lead heading into the half.
"We didn't shoot the ball well in the beginning at all," said Spinner. "This game should have been over a lot sooner than that. Their goalie played outstanding, but I just felt good because we didn't get demoralized by it. Shooting is one of those things that can really change the complexion of the game and we didn't allow the slow start, the shooting, to really affect the way we played."
The Setters built up a 15-2 advantage late in the second half before Spinner removed most of his starters. Nyack scored three goals in the final nine and a half minutes to make the final outcome a bit more respectable.
Pace's Alissa Silvestri allowed four goals and made six saves, while Jillian Oross allowed one goal in her four minutes of relief duty. The Setters' defense dominated throughout the game, allowing just 13 shots on goal, while doing an impressive job clearing the ball out of its defensive end.
"Coming out, we just had so much energy built up and we know that we have absolutely nothing to lose," said Setter midfielder Kelly after she finished with two goals and two assists. "We just had everything to gain and that's what's pulling us through everything."
Casasanta ended the day with four goals and sent nine shots on net, while Sulfaro added three goals on eight shots on net. When time expired, the Setters celebrated as if they had just won the conference title, then posed for pictures on the turf while friends and family cheerfully captured all their smiles for posterity.
According to Spinner, the motto for the inaugural season for the all-freshmen squad of 20 players is "uncommon." But as the game went on, it was easy to tell this team was more than just uncommon.
"I think the common thread among this group is, it's a group that chose Pace University," said Spinner, who more than a decade ago helped launch the women's lacrosse program at Mount Saint Vincent and most recently was the girls' varsity coach at Trumbull High in Connecticut.
"What we sold them was the opportunity to build the leadership of being a new program, like these two (Gelderman and Kelly) as freshman captains," he added. "It's a very unique experience not every program can offer. When you combine the academics, the construction and the things that we're doing for the university and the playing-time opportunities here, who would want to say no? And I was very lucky and very blessed to have this group."
With their first game now a part of school history, the Setters will try to remain undefeated this coming Saturday when they travel to North Andover, Massachusetts to take on their first Northeast-10 opponent, Merrimack College.