Pace Women's Justice Center Opens Walk-in Clinic in White Plains
We are part of The Trust Project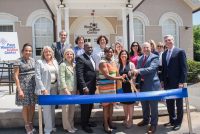 The Elisabeth Haub School of Law at Pace University, White Plains, opened a new 4,000-square-foot office space for the Pace Women's Justice Center (PWJC), Friday.
The office, which is geared toward encouraging clients to come forward in a safe and friendly atmosphere, was the former Student Life Center on the Pace Law School Campus. It features a new walk-in clinic.
The $1.5 million project was funded by Pace University and private donors including a $100,000 grant from Impact 100 Westchester.
PWJC provides free civil legal services and training for addressing domestic violence, sexual assault and elder abuse in Westchester and Putnam counties.
"Pace University has always been dedicated to helping people and changing lives," said Marvin Krislov, president of Pace. "The Pace Women's Justice Center at the Elisabeth Haub School of Law does the important work of serving as a much-needed resource for some of the most vulnerable in our community. With this new center, I'm very pleased that we'll be able to help even more families."
PWJC currently serves over 3,000 clients per year. It moved from a small space adjacent to the Pace Law campus that was not sufficient to meet the growing numbers of survivors who are in need of its services.
PWJC's attorneys assist women in and out of the courtroom, helping them to obtain orders of protection, custody of their children, child support and divorces. Victims of interpersonal violence have many needs arising from the abuse, and PWJC believes that clients do better in the long term if they are treated holistically. Thus, PWJC connects women and the elderly with a broad range of social services such as shelter, medical care, counseling and immigration assistance, in order to help them find a pathway to safety.
PWJC also trains social service providers and police officers across the region in how to handle cases of abuse.
Cindy Kanusher, Executive Director of the Pace Women's Justice Center, said the clinic would be the first of its kind in Westchester and Putnam providing free legal services without an appointment in a warm and welcoming space, to victims of domestic violence, sexual assault and elder abuse. She said the clinic would be a safe alternative to PWJC's satellite offices in the White Plains and Yonkers courthouses for clients who are afraid to go to court. Many victims fear facing their abuser in the courtroom, and immigrant victims are often afraid of the judicial system and deportation. PWJC serves clients without regard to immigration status, Kanusher explained.
"Domestic Violence, sexual assault and elder abuse are pervasive problems that affect communities all over the country, including ours," said Kanusher. "The explosion of the #MeToo Campaign demonstrates the need for the Pace Women's Justice Center's walk-in clinic; more victims of abuse are speaking out and needing help and the clinic will remove obstacles that many victims face when coming forward. We know that the opening of this clinic will save lives. We will give people the critical help that they need to feel safe, and we will be at their side every step of the way throughout the legal process."
She added, "We are so thankful to everyone who generously contributed to the development of the new walk-in clinic, especially our partners Pace Law and Impact 100 Westchester.''