Pace University's Plan to Close Animal Museum Draws Criticism
We are part of The Trust Project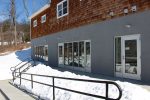 Pace University is planning to close an on-campus animal museum to make room for additional environmental research space for students and faculty, but the proposed move has drawn some criticism from students and alumni.
Angela Nally, a Pace spokeswoman, confirmed that the college is planning to close the Marty McGuire Museum, although there is no date set for its closure.
Nally said the site that currently houses the 490-square-foot museum would continue to bear McGuire's name, but would be used for professors to collaborate with each other and to work with students.
"Dyson College of Arts and Sciences' primary mission is to provide an excellent education to its students," Nally said in a statement. "This means that the College has to make decisions that support its academic growth and quality. Because of this, it was determined that the College needs to expand its educational facilities to provide students and faculty with critical research space.
The facility opened six years ago in honor of McGuire, a 2006 Pace graduate who was killed in a car accident in 2007. When the space is converted, it will be called the Marty McGuire Environmental Research Center.
The university will find homes for the 18 animals, beginning this summer, Nally said. It contains a variety of species including a Screech Owl; a Burmese python; a Hog Island boa; a water dragon lizard; a Moroccan spiny-tailed lizard; two black-tailed prairie dogs; three Western hog-nosed snakes; three corn snakes; two Eastern box turtles; two chinchillas; and a veiled chameleon.
Unlike the animals housed at Pace's Environmental Center, those in the museum are not used as part of any course of study. The environmental center animals will not be affected by the decision.
Pace's decision has upset many animal lovers. A petition on the Change.org website written by Sam Mayrose of Stony Brook, L.I., attracted 698 names by Sunday afternoon.
"Don't let these animals be taken away from their home and forced to find a new family," the petition stated. "I'm sure every effort will be made to relocate these animals, but it would be such a shame to lose such a wonderful part of the Pace campus."
Jackie Marks, a 2005 Pace graduate who earned her degree in environmental studies, said the college should reconsider its decision to close the museum. Marks said she worked at the museum when she attended the university.
"This place has a very special place in my heart," said Marks, who donated her pet snake to the museum when it became too large to keep at home.
Marks added that students often enjoyed visiting the museum during breaks in their classes.