Owls All Around: Airports, Irruptions and Hunting Harry's Hedwig
We are part of The Trust Project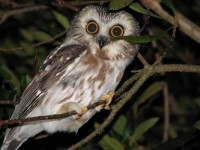 By Brian Kluepfel
The nocturnal, solitary and stealthy owl has both fascinated and repulsed humans for millennia and has come to symbolize many different things: harbinger of death, carrier of wisdom, messenger to the spirit world, even fortune in battle.
But most recently, in the eyes of the Port Authority of New York & New Jersey, owls came to symbolize danger to the airplanes of John F. Kennedy International Airport. The agency began to shoot and kill Snowy Owls in December after one was sucked into the engines of a departing jet.
A public hue and cry led to an immediate stoppage of the shootings, and a friendlier trap-and-release program, similar to the one at Boston's Logan Airport, is now in place. This was thanks to an online and telephone onslaught from conservationists who saw a better approach to keeping Harry Potter's buddies off the runways.
This winter has seen an irruption, or mass migration, of Snowy Owls to areas where they are not commonly seen, and New York is part of the phenomenon. JFK, Jones Beach and Edith Read Sanctuary in Rye are among the sites where this large, strikingly white predator has been spotted.
Saw Mill River Audubon, in conjunction with the Bronx River-Sound Shore Audubon Society, is hosting an owlish duo of events this week in honor of this beautiful creature of the night. On Thursday at Rockefeller Park, a presentation by two owl experts from the Bronx-Sound Shore, as well as a high school senior from Croton-Harmon High School, will highlight the studies of the tiny Northern Saw-whet Owl here in New York and in Minnesota.
On Saturday, Trudy Battaly and Drew Panko will lead a group on an annual "owl prowl" through sites where the birds are most likely to be seen. (One good possibility is the dunes of Jones Beach, where as many as six Snowys have been seen in one day this winter already.) The three resident Westchester County species–Great Horned Owl, Eastern Screech Owl and Barred Owl–are also in the group's sights.
Battaly, who has been banding and studying owl populations in the tri-state area for more than three decades, said "Owls are at the top of food chain, so they are predictors of what goes on in rest of world."
She is currently investigating how the local acorn production may affect the local mice population, and thus affect the number of owls in the area.
"The Saw-whets depend on mice, and mice depend on acorns, so at the bottom of the food pyramid we need lots of producers," Battaly said.
Battaly and Panko have been studying the Northern Saw-whets of Pelham Bay Park for several years now, but Anna Roberto, a senior at Croton-Harmon High School, had the opportunity to study Saw-whets and more on her October trip to the Hawk Ridge Migration Center in Duluth, Minn. The five-day journey was underwritten by the Larry Light Scholarship, granted annually by Saw Mill River Audubon to a deserving student or students who are studyi.ng birds. In Roberto's case, she wrote a paper on the affects of luminosity, or cycles of the moon, on owl migration. But visiting the great north opened her eyes to a much larger phenomenon.
"It was really great to see other owls, too," said Roberto. "I had never seen a Long-eared or a Barred Owl before."
Growing up under the tutelage of her father, Charlie, a well-known local bird enthusiast, may have had something to do with Roberto's early fascination with birds, and she began banding owls as a small child. At the banding station in Duluth, she got to see crucial data collected in a site where hundreds of owls may be captured in a single day, due to its locus on the Mississippi flyway. Situated on the western extreme of Lake Superior, Hawk Ridge may often be the first stopover point for migratory birds crossing the Great Lakes into the U.S.
While walking the site each night, checking the nets for owls, Roberto also observed something indescribably cute.
"The (fist-sized) Saw-whets will actually fall asleep in your hand when you're holding them for the banding," she said. Whereas the Barred Owls made their displeasure known. "They were not very happy," said Roberto.
The study of "the wise old owl" by researchers like Battaly, Panko and Roberto may indeed bring us humans some wisdom and a greater awareness of our environment. And they may be the demonic harbinger of death, but instead teach us how to better preserve all forms of life on planet Earth.
"Owl Prowl" is on Saturday, Jan. 18. Sites to be determined this week by leaders; pre-registration is required.
Info: Visit www.sawmillriveraudubon.org
Pleasantville resident Brian Kluepfel is on the board of the Saw Mill River Audubon.