Outdoor Concert Series at Arts on the Lake Begins This Saturday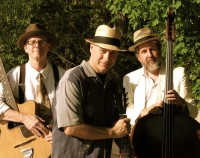 The Arts on the Lake Summer Concert Series is set to kick off at 7 p.m. this Friday, July 13 with a Hawaiian-themed night of music performed by Cold Spring-based band Tiki Daddy on the north lawn at the arts center located at 640 Route 52 in Kent.
The concert series organized by singer-songwriter Kati Mac will continue with other performances on Friday, July 20 and July 27.
Arts on the Lake said that because of the generosity of Friends of Kent Library, Radovich & DeanMusic, Kent Liquors, and Joan Iacono Law, the concerts are pay-what-you-wish and open to everyone in the surrounding communities.
This Friday's concert by Tiki Daddy, comprised of John Harms on guitar and vocals, Art Labriola on the lap steel guitar and Al Hemberger on bass and vocals, will feature their signature Hawaiian-inspired music that is blended with American jazz.
"Tiki Daddy plays with a period of time when the Hawaiian invasion was in full force and the sound of the steel guitar mesmerized and hypnotized musicians and record buyers alike," Harms said of the group's music.
On Friday night, attendees are encouraged to don Hawaiian attire and at intermission Comcast Cable Host Jim McGuire will announced the winner of the best or most outrageous Hawaiian-themed shirt contest. The first 30 concert goers also will receive a complimentary Hawaiian lei.
Next on the calendar for the concert series will be "Ada Dyer Sings Aretha Franklin," scheduled for 7 p.m. on Friday, July 20.
According to an announcement on the Arts on the Lake website, after Dyer made her  Broadway debut in "The Wiz," the Chicago-born R&B vocalist went on to work with Sting, Roberta Flack, Lenny Kravitz, Cher, the J. Geils Band, Boz Scaggs, Michael Bolton and Luther Vandross.
Then at 7 p.m. on July 27, the Cobert Operations will take the stage, led by Jon Cobert on keyboards and vocals, Peter Calo on guitar, Stu Woods on bass, Rob Wallis on drums, Tim Ouimette on trumpet, Mark Finebert on saxophone and Kati Mac, who organized the series, on vocals.
Cobert Operations is a horn-based rock band with a jazz-funk influence and their repertoire includes rarely heard cover tunes and some bluesy originals and the veteran musicians in the band have played with John Lennon, Bruce Springsteen, Jackson Browne, Laura Branigan, Carly Simon, Ray Charles, The Four Tops and Todd Rundgren.
There will be local food vendors on site beginning at 6:15 p.m. and attendees are encouraged to bring a blanket or folding chairs to sit on.
In the event of rain, the concert will be held inside of the arts center. Arts on theLakeis offering a "Friend of the Summer Concert Series" sponsorship. A $30 contribution will help support the music program and with it, a contributor will receive a reserved indoor admission in the event of inclement weather.
The concert series also offers volunteer opportunities for local teenagers to help set up, work concessions and provide hospitality for the bands by sending an email to volunteer@artsonthelake.org.
For more information on the concert series and other programs offered at the art center, community members can visit www.artsonthelake.org.