Ossining's Chong Becomes Section 1's All-Time Points Leader
We are part of The Trust Project
Before the final buzzer had sounded and Ossining High had beaten visiting Blind Brook 89-56 last Wednesday, Pride senior Saniya Chong took the game ball she had been presented by Ossining Coach Dan Ricci and ran it over to her grandma sitting in the bleachers. Rejoicing with her family was the only way Chong wished to celebrate her accomplishments, which happened in one fell swoop.
At the outset of her high school basketball career, Chong never imagined she would be where she was when she went into the game against Blind Brook: in second place on Section 1's all-time scoring list with the career record within arm's reach. The UCONN-bound superstar needed 38 points to tie Karen O'Connor (FDR-Hyde Park) for first place on Section 1's all-time points scored list.
With 37 points already under her belt and 2:08 left in the third quarter, Chong grabbed a steal and on a fast break drove the ball down court, positioning herself outside the arc. She got an open look and hit a 3-pointer to smash the record, giving her 2,664 points for her career, surpassing O'Connor's 25-year-old record of 2,662 (O'Conner's mark had stood since 1987, the year she graduated from F.D. Roosevelt-Hyde Park, which is now a Section 9 school).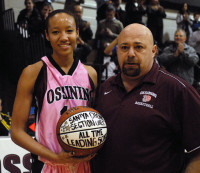 The 3-pointer not only gave Chong the distinction of Section 1's all-time points scoring leader, but with it she also notched her 280th career 3-pointer, breaking the 12-year-old New York State record for most 3-point field goals in a career (surpassing the previous mark set by Bloomfield's Heather Shepard in 2001). Chong also recorded yet another milestone in the game, snagging the 500th rebound of the most fabled career in Section 1 history; this on the heels of being named Ossining's first girl's hoops All-American on Tuesday.
Although the past week has been a whirlwind, to her, most of these achievements were unforeseen. Yet she still feels it's all a product of dedication.
"Definitely, I would say, this is by far the best week I've ever had; so many accomplishments I have achieved, but everything has been a surprise for me; a lot of these events have taken me by surprise," Chong said. "All it is, I guess, is hard work. It's very special. I just played as hard as I can and I got it, and I was very excited to have my whole family here. They always come to support me, but I thought today was very special, and they came here especially for me."
Right after Chong notched the magical 2,664th point, game action came to a brief halt to acknowledge her conquests. Coach Dan Ricci then praised Chong for not only breaking the points record through perseverance, but shattering it quicker than the other players on the list – players that competed for longer than four years at the varsity level.
"This record has been standing since 1987 and she did it in less than four seasons," Ricci said.
"This year we got to play a big time schedule and she played full games, and that's also the reason why she's an All-American. If we had played the schedule that we played before, she would've never been an All-American. You have to play the best to be the best; she plays right with the best and in my book, she is the best."
Ricci added that Chong has set a precedent for the younger Pride basketball players, being a good role model for the underclassmen.
"She's going to UCONN because of the way she conducts herself," he continued. "The kinds of kids who are at UCONN now are straight-laced kids, good kids. That's why it's a perfect fit for her."
But According to Chong there's still plenty of work to be done in Ossining before the Huskies are treated to her dominance.
"Right now we're looking at the County Center," Chong said; the Section 1 playoffs on the horizon. "Then states, here we come!"
Whether or not the two-time reigning Section 1 Class AA champion Pride survives the rigors of a third consecutive NYS tournament — in an effort to endow Ossining with its only NYS team championship in school history — Saniya Chong has left the community with an immeasurable benchmark for generations to strive for. Her combination of drive, humility, devotion and willingness to help her teammates has rarely been witnessed by the Ossining faithful, and the mutual respect has been evident each time she's graced the hardwood.
Simply stated; Section 1 has never seen a girl's basketball player of Chong's ilk, and it could be quite some time before it ever does again.
Ray Gallagher contributed to this story