Ossining Wins First NYS Class AA Girls Hoops Title
We are part of The Trust Project
If you go to blue-collar Ossining High School and look around, there are four glossy gold balls from Section 1 Class AA championships, and a slew of NYS regional title plaques. But the one thing that has always eluded the Pride's girls' basketball team was a state title.
Not anymore; not since last Saturday's epic heroics.
After escaping the state semifinal on Friday at Hudson Valley Community College in Troy with a 66-58 win over Section 11's Sachem-East, the state-ranked (No.1) Pride (22-4) captured the NYSPHSAA Class AA championship with an 86-69 victory over Gates-Chili (Section 3) on Saturday night, securing the first girls' hoops state title in school history.
Pride Coach Dan Ricci, who earlier collected his 350th career win this season, was overwhelmed to see how much support the Pride received throughout the Ossining community for not only reaching the final four, but bringing home the first state crown of any kind (besides cross country's four 1963-67).
"It's amazing, the support these kids got from the community," he said. "Busloads of our fans filled the place and when we came home we were greeted at the town line with six or seven police cars and eight fire trucks that led us through town. It's been a tremendous experience."
The Pride was led in both games, as per usual, by senior sharpshooter Saniya Chong. The UConn-bound power player notched 27 points, eight rebounds, seven steals, four assists, and a block in the Pride's semifinal win. She followed suit by putting up 34 points in the state final while adding six assists and four take-aways.
Chong broke the Section 1 scoring record earlier this year, and in the third quarter of the state championship game vs. Chili broke the state's single season scoring record (902). She now has 2,962 total career points, good for fourth place on New York State's all-time scoring list.
If that isn't enough, she was selected to play in the WBCA All-America game on April 6 in New Orleans, plus she was named New York State's Gatorade Player of the Year and Miss New York Basketball. Unselfishly, this is everything she could have wished for, yet the state title is what meant the most to her.
"This is especially what I want," Chong said. "It is a big eye-opener; we had this in the back of our heads at the beginning of the season – we were thinking about it, and our expectation was winning the state championship."
Like the regional win over Monroe-Woodbury, the losing team approached Chong after the Pride secured the state title, and asked for photo-ops and autographs.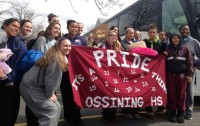 "Her opponents like her," Ricci said. "After the game a player asked for her autograph, and the kids took a picture with her. It's been an ongoing thing this whole playoffs. The kids realize what a special talent she is, and also what a great kid she is."
Of course, Chong couldn't have done it with out her typical group of reinforcements. In the semifinal round, Jalay Knowles notched a double-double: 14 points and 12 rebounds. Then in the finals the Pride found it, clicking on all cylinders, receiving outstanding performances by Knowles and eighth grader Andra Espinoza-Hunter, each netting 14 points to balance out the scoring.
"Saniya didn't have a great game the first night, they were really double and triple teaming her, but it seemed if one person wasn't stepping up, someone else did," Ricci continued.
"We struggled early and were down at the half (vs. Sachem East), but Kat Polletta kept us alive with two threes, and Jalay Knowles was outstanding all weekend. In both games they were putting two players on Saniya and leaving a player open, and to win a state championship at the AA level, you really need to have four or five players on the court that can play, not just one."
Ossining now has one game left: the Federation Championship game, which will take place on Saturday at the Times Union Center in Albany. After the greatest season in Ossining girls' basketball history, Ricci wants nothing more than for his girls to win their final game.
"It was definitely the best season," he said. "The whole schedule we put together – it was a great ride and we want it to last as long as possible. The seniors wanted the opportunity to win their last game ever in high school, and now they have that chance."
Earning a first round bye in the Federation round, the Pride will play the winner of Friday's Murray Bergtraum (PSAL) vs. Bishop Ford (CHSAA) semifinal, looking to lock down the last piece of any NYS basketball puzzle: the Federation chip. It is the mission of Andra Espinoza-Hunter, Danielle Gervacio (C), Stefanie Svoboda, Maria Estupinan, Saniya Chong (C), Daniella Ferrao (C), Valerie Andujar, Alexandra Cristello, Shadeen Samuels, Kathryn Polletta, Melanie Silverstein, Madison Strippoli, Jalay Knowles, Christine Kopera and Abby Squirrell to obtain that chip this Saturday, March 23 at Albany's Times Union Center (6:45 p.m.).