Ossining Science Programs Receive National Recognition
We are part of The Trust Project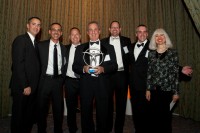 Ossining High School was awarded top prize September 10 at the Intel Schools of Distinctions Awards, a national competition to recognize schools across the country excelling in math and science.
Ossining was praised for having the best high school science programs in the country, and was also named "The Star Innovator," an accolade given to a school that best fosters scientific learning both in and out of the classroom. As this year's Star Innovator,Ossining High School will receive $100,000 in cash as well as curriculum materials, professional development resources and computer hardware and software.
The science programs in Ossining High School were put on the map with the advent of the school's Science Research Program over a decade ago that gives students the opportunity to conduct their own cutting-edge research in the sciences. The program has garnered awards both at the national and international level. In the past three years alone, the Science Research Program has had 16 semifinalists in the Intel Science Talent Search (STS), largely regarded as the most prestigious science competition in the country. In fact, two years ago,Ossining was tied for most STS semifinalists in the country—quite a feat for a public school of its size and diversity.
Angelo Piccirillo, founder of the Ossining Science Research Program, stated, "We are faced with a lot of obstacles as a public school, so for us to be recognized at the national level is really special."
While science research did play a major role in receiving the award, many other sectors of Ossining's science department have also been flourishing recently. For instance, the school's FIRST Robotics Club placed top 100 in the world in its debut year. In addition, in recent years Ossining is offering new electives each year to spark scientific curiosity, and more and more students of diverse groups are taking these innovative courses. Science teachers have also become increasingly adaptable to meet the changes in the school's values and demographics to create the best possible classroom experience for students.
"We adjust with the needs of the students. That's what good teachers do and that's what I feel the science department does well," said chemistry and physics teacher Charles DiVico.
With all of its scientific achievement, the school applied to the Intel Schools of Distinction competition, and the timing could not have been better. Ossining Science Research teacher Valerie Holmes said, "In terms of how we were doing with science research and minority student enrollment in these new courses recently—everything was just the perfect opportunity this year."
By Dan McQuaid