Ossining Candidate Under Fire for Racially Insensitive, Misogynistic Tweets
We are part of The Trust Project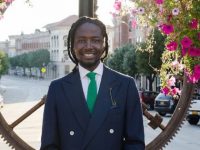 With issues of race and misogyny causing controversy and frayed tensions in the country, a candidate running for the Ossining Village Board has triggered a new round of angst for some in the community.
First-time candidate David Kezafrika, who is running for one of the two open seats on the Village Board under the support of the Working Families Party line, has recently come under fire by residents irked by several questionable posts he made on his Twitter account. Kezafrika, 29, announced his candidacy in September, stating he wants to make a difference in his community.
However, within the last year, more than a dozen posts referencing rape, race, women and drugs were discovered on his Twitter page under the handle MajorGloryus. Kezafrika used inappropriate language, such as the N-word, made crude remarks about women being "hoes" and tweeted disparaging remarks about single mothers.
"Why do some of the good looking on the dating sites all have kids?! It's bad enough that they are Hispanic and black. It says a lot about those minorities. Guys have to put up with even more," one tweet said.
"Stop letting ni—gas hit just because they bought you a meal," another tweet read.
Kezafrika also posted that an influx of white people makes him feel "uneasy" and that "white unsuccessful people are trash."
"Anything is possible when you sound white on the phone #factsonly," another tweet stated.
Some residents believe the tweets are disqualifying as Kezafrika seeks to represent the more than 25,000 people in Ossining.
Ossining resident Laura Whitlinger said Kezafrika's postings are both jarring and inappropriate, stressing discomfort with him being a district leader with the Ossining Democratic Committee – a party that is supposed to support women, diversity and inclusion, she said.
"These tweets have been floating around Ossining for several months now, shared among women who find the darkness and rancor disturbing, and they find it difficult to talk about," Whitlinger said. "This kind of bigotry and misogyny needs to be discussed out in the open, and it especially needs to be discussed at the Ossining Democratic Committee meeting."
Kezafrika told The Northern Westchester Examiner that while residents' concerns are valid, his Twitter postings are not a true representation of his character. As an environmental specialist and a 15-year resident who emigrated from Africa and graduated from the Ossining School District, Kezafrika said he wants to represent those who don't have a voice and bring a new sustainable vision to Ossining.
"I can ensure people that this is in no way even reflective of my character as an Ossining resident and a person," Kezafrika said. "I don't generally talk like this or have these types of views."
While Kezafrika acknowledged his postings were wrong, he said they could be taken out of context, stating that he was referencing television shows and radio programs. He said he could have used hashtags or highlighted what he was referencing when he posted the tweets to add further context. Kezafrika also said he could have written the posts better.
"Rape an atheist till the B—ch say Our Father #SeanP," is the only post where Kezafrika quotes and hashtags his tweet is a lyric from a song.
"When it's all said and done, I uphold a sense of professionalism in anything I do," Kezafrika said. "Those tweets, as unprofessional as they are, they don't represent the deep respect I have for my community."
Croton-on-Hudson resident Heidi Franco, whose children attend St. Augustine School in Ossining, said she found Kezafrika's tweets extremely disturbing. She also expressed disappointment that Ossining Democrats have refused to make a statement about his behavior or hold Kezafrika accountable for his actions.
Ossining Trustee and mayoral candidate Omar Herrara, who is friends with Kezafrika and publicly supported his campaign, and Ossining Democratic Committee leader and trustee candidate Manuel Quezada were all provided a sampling of Kezafrika's tweets and did not respond for comment.
"We don't want to elect people to local office that have publicly demonstrated a lack of respect for women, period," Ossining Mayor Victoria Gearity said. "That is something voters should know about as they consider casting their ballots."
 Ossining Trustee Rika Levin, who is running against Kezafrika in the Nov. 6 election, said that while she doesn't know Kezafrika very well, she found his postings to be "sexist and quite racist."
"Given the national landscape we've been going through, it's totally inappropriate," Levin said. "I don't know how to react to it."
Franco suggested Kezafrika take some time to grow up, take accountability and reflect on what should be posted on social media and how people will react to it. She added that Kezafrika is not a good symbol of what the Working Families Party stands for, and that he needs "serious help."
"My eight-year-old son has better judgment than this," Franco said. "A lot of men are disgusting, and we need to start cleaning up these men who think they can talk and act a certain way."