Opponents, Union Workers Clash Over Pipeline Project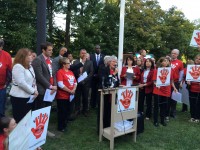 By Sue Guzman
Proponents and opponents of a controversial natural gas pipeline project mobbed the Muriel Morabito Community Center in Cortlandt last Monday night to weigh in on the controversial Algonquin Pipeline Project being considered by the Federal Energy Regulatory Commission (FERC).
The public hearing was held to allow comments on the Draft Environmental Impact Statement for Spectra Energy Corporation's proposed project that would run from Stony Point, under the Hudson River, through Peekskill, Cortlandt, portions of Yorktown and into Southeast, Connecticut, Rhode Island and Massachusetts. The proposal, which is being reviewed by FERC, would remove an existing 26-inch gas pipeline and replace it with a 42-inch one.
The evening began with a news conference held by pipeline opponents that included the grassroots groups Stop the Algonquin Pipeline Expansion (SAPE), Concerned Peekskill Residents (CPR) and Keep Yorktown Safe. Amid raucous shouts by megaphone-wielding proponents of the pipeline, Suzannah Glidden with SAPE called the DEIS "fatally flawed and incomplete," adding, "Most glaring is the absence of a comprehensive assessment of the unacceptably dangerous siting of the pipeline under extreme high pressure right next to the Indian Point nuclear power facility–1500 feet away and its 40 years of spent nuclear fuel rods."
That sentiment was echoed by state Assemblywoman Sandy Galef (D/Ossining), who called it an accident waiting to happen. "You can't have this huge high energy line put in with a nuclear power plant down the line," she maintained. Galef said she wrote to FERC in January asking that a study be done by the NRC to determine whether the gas pipeline would have any negative repercussions on the health and safety of the people living around Indian Point. No study has been done, she noted.
Buchanan Mayor Theresa Knickerbocker said one of her biggest concerns was that the pipeline would come within 450 feet of the Buchanan-Verplanck Elementary School, calling it a "big safety issue."
Cortlandt Supervisor Linda Puglisi was also among those in opposition to the pipeline. "We've done more than our fair share to provide energy in our community, our region and our state. We do not need to become the energy capital of America," she remarked.
As Puglisi was shouted down to chants of 'we want jobs' by hundreds of unionized workers who gathered to show their support for the project, she responded by saying, "We support the people who are looking for jobs, but this is not the right project for our community."
About 200 union laborers from Westchester and Rockland counties clad in bright orange shirts were in attendance in support of the Algonquin Pipeline Project. Frank Marchese Jr. with the New York State Laborers' Organizing Fund, said, "Our workers are hard working men and women who not only need jobs, but live here and pay taxes here, so they would never jeopardize the health and well-being of their families for the sake of a job. "
"We know this job can be done in a safe manner with minimal environmental impact," Marchese said. "Over 70 percent of the project involves existing right-of-ways, meaning the pipe is in the ground already and is merely being upgraded."
Peekskill Mayor Frank Catalina opposed the pipeline project for a different reason. He said Peekskill lawmakers met with officials from Spectra Energy and did not get answers to their questions regarding liability. "When you don't know what your liability insurance is, you should not come to Peekskill. When you do not know who is going to pay for damage to the roads, damage to private property, you should not come to Peekskill," he said.
Courtney Williams, parent of a future Buchanan-Verplanck Elementary School student, disputed Spectra's assertion that the expansion would only involve replacing an existing pipeline 1,500 feet from the school. Williams said the new route would actually be only 450 feet from Buchanan-Verplanck Elementary.
"We know from peer-reviewed scientific literature that a rupture at that proximity would mean a 100 percent fatality rate, should an for anyone outdoors unprotected, such as children and staff at the school," she noted.
Opponents of the pipeline presented FERC with a petition containing more than 26,000 signatures at Monday night's meeting. An estimated 400 people packed into the community center and approximately 80 speakers addressed FERC during the more than four-hour hearing, with the overwhelming majority denouncing the project.