Opponents Protest Potential County Airport Privatization Plan
We are part of The Trust Project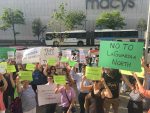 Westchester residents and organizations gathered on the steps of the county building in White Plains late Monday urging officials to drop its plan to privatize Westchester County Airport.
With the event attracting more than 100 people carrying signs reading "No to airport privatization," and "The airport belongs to the people," residents said they fear that turning control of the airport over to a private entity will incentivize expansion, risking air and water quality.
"The privatization would create strong incentives to increase profits, whether by increasing the number of flights at the airport or by cutting costs on important programs like security or environmental protection," said Jonathan Wang, chairman of Citizens for a Responsible County Airport. "It would greatly decrease the airport's accountability to the public. This ludicrous plan would be funny if it wasn't such a grave threat to our communities."
Action to privatize the airport began last fall when County Executive Rob Astorino announced a $140 million, 40-year revenue-sharing lease with California-based investment firm Oaktree Capital Management. The lease agreement proposal was sent to the Board of Legislators just days before Astorino was set to release his proposed 2017 budget, one that included $15 million in revenue for this year from the airport deal that was negotiated behind closed doors.
Wong also criticized Astorino for having pushed the privatization forward without a public hearing.
With the county releasing its draft of the airport master plan, opponents worry that privatization will cause a threat to the surrounding community. The plan calls for an increase in the number of flights and development of a corner of the airport that drains into the Kensico Reservoir, which provides drinking water to more than nine million people throughout Westchester and New York City.
Westchester for Change activist George Fuss said an increase in the number of flights would increase air pollution, damaging the county's ozone level. Westchester cannot afford the damage to its citizens' health that a privatization deal would bring, he said.
Legislators Catherine Parker (D-Rye) and David Gelfarb (R-Rye Brook) also attended the rally and oppose the privatization plan.
"This deal is a fire sale of our county assets," Parker said. "This is your county airport and this is how the Board of Legislators can help ensure that our air, our water, our drinking water is also protected. We need to have that control. We know this is a bad deal for Westchester County, it's a bad deal for taxpayers, but it's a great deal for Rob Astorino, the person who stands to gain the most."
Gelfarb added that he strongly opposes any privatization and fears loss of county control.
"I am concerned about the potential environmental ramification of a privatization," he said. "I am concerned about additional ground traffic. I am concerned about additional air traffic. I am concerned about noise. I am concerned about potential dangers posed by storm water. We also need to take particular care to guard our reservoir."
State Sen. George Latimer (D-Rye), one of two Democrats vying for the nomination to face Astorino in November, criticized the county executive for failing to put the county's needs first and making a decision based on potential profits.
"He's taking decision-making power out of the hands of a public domain and putting it in the hands of a private business whose mission is to maximize its revenue, not necessarily to operate within the public interest," Latimer said. "We, who are elected into office, are ultimately accountable and once you put a corporation in charge and give them a contract for 40 years, what leverage do you have? I think on a lot of levels this doesn't make good business sense and it doesn't make good sense for residents in the community."
Board of Legislators Chairman Michael Kaplowitz (D-Somers) said Tuesday that the county is expected to open bids next Friday, July 28. A special task force will review the bids and make a recommendation to Astorino.
Kaplowitz said that the Board of Legislators would then review the potential operator.
"I can assure everyone that the level of due diligence, the professionalism to review what we started back in the brief period of November, December will continue, and if this deal going forward doesn't strike the financial, operational and environmental protections that we want to see, then it's not going to have 12 votes to move forward," Kaplowitz said.
A public hearing on the airport master plan will be held at the County Center on July 27.
"This is an issue that matters to everyone all over the county, it's not just the people (who) are airport neighbors," Wang said. "We will continue to hold our government accountable. Neither Astorino nor the Board of Legislators can take away our airport; therefore, it's owned by us, not Jet Blue and certainly not Rob Astorino."
Martin Wilbur contributed to this article.