One of White Plains' Own Stars in WPPAC's West Side Story
We are part of The Trust Project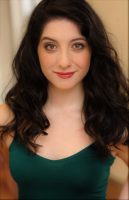 As one of the stars in WPPAC's production of West Side Story, Alexandra Imbrosci-Viera feels a sense of nostalgia as she walks into the White Plains Performing Arts Center as her love for musical theatre started on that stage when she was just a little kid.
After a few summers participating in the WPPAC Summer Theatre Academy and various roles throughout the years in other WPPAC student productions (and a fateful night during a performance of A Chorus Line where she went on as Bebe) her career path was set.
While at White Plains High School, Alex participated in choir, symphony orchestra and honors ensemble. The influence and guidance by high school teachers Penelope Cruz, Dennis Polanco, William Eckfeld, Jena Smith and her experiences on-stage at the WPPAC helped Alex decide that after graduation in 2012 she would attend SUNY Geneseo and pursue a career in theatre. She graduated in 2016 with a double major in Musical Theatre & Personal Professional Communication.
Since graduation, Alex has been cast in numerous shows throughout the country, including starring as Patty Jenkins in The Plant that Ate Dirty Socks directed by Joseph C. Walsh who also returns to White Plains to direct West Side Story. But for Alex, nothing is more exciting that returning home to be a part of the iconic musical and to play the role of Anita made famous by the incomparable Rita Moreno.
WPPAC's West Side Story is directed by Joseph C. Walsh with Musical Direction by Paul Rigano and Choreography by Jennifer Jonas. Scenic Design by Scott Aronow, Costume Design by Barbara Erin Delo, Lighting Design by Catherine Clarke, Stage Managed by Jessica Humke. Book by Arthur Laurents, Music by Leonard Bernstein, Lyrics by Stephen Sondheim. Entire Original Production Conceived, Directed and Choreographed by Jerome Robbins.
Arthur Laurents' book remains as powerful, poignant and timely as ever. The score by Leonard Bernstein and Stephen Sondheim is widely regarded as one of the best ever written for the stage. The world's greatest love story takes to the streets in this landmark Broadway musical that is one of the theatre's finest accomplishments.
The cast is headed by Lauren Langbaum as Maria and James Mernin as Tony with Alexandra Imbrosci-Viera and Rafa Reyes as Anita and Bernardo and featuring Carson Stewart as Riff.
The full company boasts local, national and international talent including, Amanda Almeida (Harrison), John Cedric Anderson (White Plains), Hugo Brument, Allison Burke, James Anthony Capisito, Jazzy Cores (Mamaroneck), Casey Dath, Rose Garcia (Scarsdale), Sarah Grace, Doug Hornyak (Scarsdale), Sabrina Koss, Diane La Von, Jocelyn Lonquist, Sergio Marroquin, Phil Ordoñez, Anthony Pietroluongo, Gianna Prignano, Tiffany Reyes (Harrison), Emily Riedel (Croton-on-Hudson), Danny Rivera, Romello Rodriguez, Jenna San Antonio (Irvington) and Max Temkin.
Director Joseph C. Walsh states, "West Side Story is about finding or fighting for a place to call home. Each of the characters wants the same thing, but they are so blinded by fear and ignorance that they cannot see that. When we de-humanize the 'other' violence erupts and the consequences are devastating. Sadly, this show and its message of hope and understanding in the face of prejudice and violence is even more relevant today than when it premiered on Broadway in 1957."
West Side Story will play at the White Plains Performing Arts Center Friday and Saturday July 28 and 29 and August 6 and 7t at 8 p.m. and Sunday July 30 and August 6 at 2 p.m. The White Plains Performing Arts Center is located on the third level of City Center off Mamaroneck Avenue in downtown White Plains. Tickets $35.
For tickets visit the theatre box office Monday-Friday (11 a.m. to 6 p.m.), purchase the tickets online at wppac.com or call 914-328-1600. For Group Sales, contact boxoffice@wppac.com.
West Side Story is produced by Stage 2, a program created by WPPAC to bridge the gap between the Conservatory (youth theatre) and MainStage (professional theatre) productions, giving college, graduate school, and community performers the opportunity to work in a Professional Regional Theatre under the guidance of professional artists.