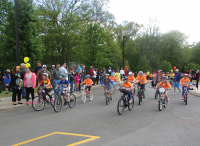 It's almost time for students to strap on their helmets, get their hands on the handlebars and feet on the pedals for the seventh annual Bedford Central School District Elementary BikeRun this Sunday.
The event gathers roughly 400 students from Bedford Hills, Bedford Village, Mount Kisco, Pound Ridge and West Patent elementary schools challenging them to ride laps around the Fox Lane Middle School/High School campus, then run, jog or walk around the athletic field.
Event founder Christina Dochtermann raved how the community-building event unites the district's five elementary schools in a fun and productive way, promoting health, fitness and wellness goals through the community.
"While the kids come together at the middle school, this event gives them the opportunity to have this amazing community wellness opportunity to come together," Dochtermann said. "It's so great to see the little ones on the Fox Lane campus, it really does a lot for the kids but a lot for the parents, too."
The youngest children in grades K-1 will bike .8 miles and run a quarter-mile on the track; grades 2-3 will ride 1.2 miles and run a half-mile while the fourth- and fifth-graders are scheduled to ride two miles and run one mile.
Modified K-2 and 3-5 challenges and buddy programs are also offered to students with disabilities.
There's a $12 per child registration fee. Dochtermann said that while the event is not a fundraiser, organizers have been fortunate enough to donate proceeds to the physical education department to build programs at the elementary schools.
"The extra supplies the BikeRun has brought in has been a surprise to the supplementary budget that helps make sure kids have additional things to make their recess time and playground time extra fun," Dochtermann said. "This event means so much to so many."
The Bedford Central School District BikeRun will take place this Sunday morning from 8 a.m. to noon at the Fox Lane campus. For more information, visit www.bcsdyny.org/K5BikeRun