Olympic Skater Provides Westchester Kids With the Golden Touch
We are part of The Trust Project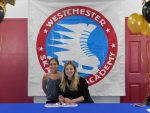 Olympic figure skater Gracie Gold spent last week at Westchester Skating Academy in Elmsford offering local young skaters advice on technique, skill and what it takes to compete.
For the second year in a row, the Olympian graced the rink with over 70 girls from the summer figure skating camp hoping to pass along her knowledge and experience to the next generation of skaters.
"There's a whole world of knowledge out there that's constantly challenging you and there's always more things to learn," said Gold, who is currently training in Michigan for the 2018 Winter Olympics in Seoul, South Korea. "I love teaching and helping kids no matter where it is."
Gold, 21, made her Olympic debut at the 2014 Winter Games in Sochi, Russia where she won a bronze medal in the team event and placed fourth in the ladies' singles competition. She is also a two-time U.S. national champion.
Campers ranging from three to 15 years old spent the afternoon asking questions and taking photos with Gold, eager to receive tips from a world-class athlete. Ossining camper Sophia Fortunato said meeting Gold was special for her.
"She's the first famous person I've ever met and it was really exciting," the 10-year-old said. "She showed us some of her spins and gave us really helpful feedback on the ice."
Allie Sabini, 11, also from Ossining, said she admires Gold and was initially nervous to meet her.
"She's a great example of persevering through tough times," Sabini said. "If you're having a tough time she's a great reminder to keep going and to keep working hard."
Last year, the rink's skating director, Stacy Isenberg, wanted to bring in an elite figure skater to teach for a few hours at the camp. When Isenberg approached campers with the idea, she said several requested that Gold teach them for the day.
"It was just a cool invite to come to Westchester," Gold said. "I had such a great time last year and all the kids were really nice that when I received the offer again to come, of course I wanted to."
Isenberg added that during Gold's two visits she's proven to be a role model for many young skaters.
"Every kid gets something different out of meeting Gracie, but I think more than anything, they get motivation," Isenberg said. "Every kid realizes that if they work hard they can do what she's doing."