Officials See Signs of Progress for Mt. Pleasant Youth Residences
We are part of The Trust Project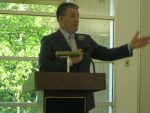 Progress is being made to address the violence at two residential facilities for youths in Mount Pleasant, state Sen. Terrence Murphy (R-Yorktown) told about 100 concerned residents at a follow-up public forum last week.
Murphy said last Friday he was working to create an action plan for Hawthorne Cedar Knolls High School and the Pleasantville Cottage School to follow and discussions were being held to form a committee that would enable the facilities to communicate with residents.
Also, both schools are considering hiring peace officers who would be allowed to restrain students, which staff currently cannot, Murphy said. No decision has been made about hiring the officers, he said.
Representatives from the two residential facilities, Sheila Poole, acting commissioner of the state Office of Children and Family Services (OCFS), and several state and local officials met on June 3 to discuss the community's concerns.
"It was a very productive meeting," said Murphy at last Friday's forum at the Mount Pleasant Community Center. He was scheduled to speak with Poole again today (Tuesday).
Murphy and Mark Saracino, co-founder of the Coalition for a Safe Mount Pleasant, which organized the first community meeting on May 23, said advances were being made after the outcry from residents and elected officials.
Saracino, who agreed that peace officers should be hired, said there have been several positives since that first meeting. He noted that on May 27 the OCFS ordered the Cottage School to freeze its current enrollment, although it has not taken the same action with Cedar Knolls.
"We have done more in three weeks than has been done in 10 years," Saracino said.
The first meeting attracted about 300 residents concerned about the series of violent incidents at both facilities. The May 23 meeting was scheduled before two melees erupted at Hawthorne Cedar Knolls on May 20 and 21.
Last month Supervisor Carl Fulgenzi threatened legal action if the violence doesn't cease. Murphy mentioned that the facilities should be closed by the state if there weren't improvements.
Saracino said the state must "fix what is broken in the system." Staff at the two facilities do not know what they have the legal right to do when encountering violent youths, he said. Conflicting state regulations on dealing with youths living in the facilities add to the confusion, Murphy said.
Councilman Denis McCarthy said he began working with local residents on the issue several years ago, but state regulations have been woefully inadequate.
Even though local officials and the state are beginning to respond to residents' concerns, the community must remain vigilant, Saracino stressed. There are weekly updates posted on the coalition's Facebook page, he said. The group has also drafted a letter that residents should sign and send to state and elected officials, he said.
Another meeting has not been scheduled, but could be held as early as August.