Officials: Kisco Ave. Bridge Replacement to Cause Minimal Delays
We are part of The Trust Project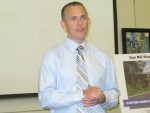 A nearly two-year project to replace a structurally deficient bridge on the Saw Mill River Parkway over Kisco Avenue in Mount Kisco is expected to pose limited inconvenience to drivers and pedestrians, residents were told last week.
The project, near parkway Exit 37, is scheduled to begin in mid-October and conclude in July 2017. Yonkers-based ECCO III Enterprises is the contractor for the $14 million project.
Disruption to drivers on the parkway is expected to be minimal, said William Cromeek, vice president for design-build at ECCO. There would be southbound and northbound lanes open at all times. During some non-rush hour periods there would be one lane closed, he said.
The bridge over Kisco Avenue, which was built in 1951 and carries an estimated 36,000 vehicles a day, will be completely replaced, Cromeek said. It received a score of 3.61 out of 10 by the state Department of Transportation (DOT).
Work is planned to be done in stages to allow the span to remain open to traffic, Cromeek said.
The scope of the work also includes roadway improvements on the parkway, including the addition of larger deceleration lanes. In addition, a sound barrier between the Saw Mill River Parkway and the Pine Crest residences just north of the span will also be constructed.
There would be up to 10 days when traffic would be detoured from Kisco Avenue, said Paul Tirums, project manager for the DOT. The minimal detours are needed to allow construction workers to put in steel for the new structure, he said. Dates for the detours have not been scheduled.
To help the elderly and handicapped, Tirums said there would be temporary walkways created under the bridge next to concrete barriers for those who use wheelchairs and motorized scooters to help them navigate Kisco Avenue.
ECCO Public Involvement Manager Briann Myers said residents would be informed on impending detour schedules through the DOT website and through blast e-mails from the Village of Mount Kisco. Residents would be told about upcoming detours at least seven days in advance, Tirums added.
Cromeek said when detours do occur they would be in place for three or four days at a time but would account for no more than 10 days. The detours would only be implemented between the hours of 9 a.m. and 10 p.m., he said.
In 2013, Assemblyman David Buchwald (D-White Plains) secured $14 million from the state to construct the new bridge.
If residents wish to receive information on the project development, they may visit the project website at www.dot.ny.gov/projects and search Project ID 8BOW.0H and/or contact Gina DiSarro, DOT Public Information Officer, at 845-431-7911.