Office Building Proposal Discussed at Patterson/Brewster Hearing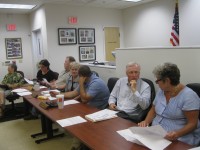 The Southeast Town Board and the Brewster Village Board of Trustees held a joint public hearing on June 18 in village hall on a proposal for construction of a four-story medical/professional office building located next to the Southeast town highway garage.
For the plan to go forward the roughly 16 acre 61 Allvoiew Ave. parcel would need to be annexed from Southeast to Brewster.
B.O.S. Land Development Corp. is proposing the building on about five acres of the property. The developer is seeking to connect the 64,000 square foot building to be connected to the Brewster water and sewer systems.
Mike Bartolotti, an attorney representing the developer, told the boards that in addition to the annexation, his client would need village approval to change the zoning from the property from the current R-160 residential zone to a B-1 commercial zone. If the project was approved his client would donate a portion of their property to Town of Southeast to be used by the highway department, he said.
There would be 181 workers employed at the building, Bartolotti, who is also the first deputy clerk for the Putnam County Clerk's Office and a candidate for county clerk, said.
Several residents, including Jim Thompson, who spoke during last week's public hearing expressed concerns that if the developer did not go forward with the office building plan, something else that they would not want on the property would be constructed. Thompson said the developer must not be allowed to seek an alternative project if the office building plan falls through, he said. Village Counsel Anthony Mole, replied by saying, "You have to build that" and an alternative project could not go forward without appropriate village approvals,
Village Deputy Mayor Christine Piccini said a rezoning could not take place without annexation of the property. Mole said the proposed rezoning would be subject to a village public hearing.
Southeast Supervisor Tony Hay asked if the office building would be able use town water, rather than village water. Town water in the area is not drinkable, village Mayor James Schoenig replied.
The village board of trustees voted unanimously to close the public hearing. The town and village boards have 90 days to make a decision on the annexation proposal, Mole said.