NYS Dept. of Motor Vehicles Changes Rules for Middle Names on Drivers Licenses
We are part of The Trust Project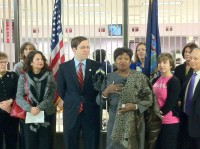 By Jon Craig
For married women or same-sex couples who once encountered problems and high costs changing their legal names on driver's licenses or registrations, a local assemblyman managed to prompt change.
In response to inquiries from Assemblyman David Buchwald (D-White Plains), the state Department of Motor Vehicles (DMV) will now provide a much simpler process to change middle names to maiden names on a driver's license upon marriage. The DMV will only require a marriage certificate to make this change. Previously, the process had proven time-consuming, requiring as many as three visits and costing hundreds of dollars.
"This policy is gender neutral,'' Buchwald said at a Wednesday news conference outside the DMV offices in White Plains.
Buchwald said he learned about the unnecessarily burdensome requirements from personal friends who shared their marriage stories. The assemblyman and his fiancée, Lara, plan a March wedding, a fact that generated hearty applause.
Newly married same-sex couples also can more easily change their names on DMV documents, Buchwald said.
The assemblyman called DMV "thoroughly responsive. They were consummate professionals."
Buchwald was joined by Professional Women of Westchester Vice President Rose Colonna, American Association of University Women Westchester Branch President Jane Pendergast, Women's Enterprise Development Center Executive Director Anne Janiak, Woman's Club of White Plains President Susan Rade Doherty, State Senator Andrea Stewart-Cousins, White Plains Mayor Tom Roach, Presidents from local branches of the League of Women Voters, and Danielle DiBiase Esposito, a resident of the 93rd Assembly District who told her personal story.
"This is a victory for women and married couples across New York," Buchwald said.
This is a practice that has become more commonplace in recent years, with best-known examples including former Secretary of State Hillary Rodham Clinton of Chappaqua.
The new policy recognizes that middle names now often change at the time of marriage, and such changes should be just as easy for newlyweds as altering their last name. Prior to Buchwald's inquiry, the DMV often only recognized a change of middle name when the individual pursued one of two difficult pathways. One was to provide a series of documents that was sometimes impossible to obtain. Alternatively, an individual could change their name legally through the court system, a burdensome process that would take several months and cost at least $100 in fees.
"The fact that a married woman is now able to use her maiden name as her middle name on her driver's license without a court order process and a hefty fee is an important victory for women," said Woman's Club of White Plains Co-President Cathy Schauber.
Professional Women of Westchester Vice President Rose Colonna added: "As professional women, many of us start our careers while we are single and, in many cases, it becomes a dilemma as to which name to use professionally once we are married. With this sensible change in state policy, we can focus our time and energy on our businesses, career and families. This is one less cumbersome obstacle for professional woman."