NYS Assemblyman David Buchwald Announces Candidacy for Reelection
We are part of The Trust Project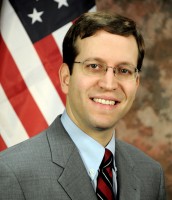 Emphasizing that "There is more work to be done," New York State Assemblyman David Buchwald (D-White Plains), representing the 93rd District announced on the steps of White Plains City Hall Thursday his intention to run for re-election.
Buchwald was accompanied by family members, supporters and other government officials within his district from White Plains, North Castle and Lewisboro as well as several members of the Westchester County Legislature.
Buchwald was introduced by White Plains Mayor Thomas Roach.
Buchwald said he had decided to make his re-election bid from the steps of White Plains City Hall because that is where he had begun his political career as a member of the Common Council.
"It is with great enthusiasm that I will be seeking re-election for the New York State Assembly," stated Buchwald. "I'm very proud of the work we've done in my first term thus far. Together we've increased state funding to Westchester schools, fought for a less burdensome tax system, and given New Yorkers hope that one day corrupt officials will be prevented from collecting their state pensions. Together we've made progress, but there's more work to be done. With your help, we will succeed in November and beyond in our efforts on behalf of hard-working Westchester families."
Endorsed by the Democratic, Independence, and Working Family parties in the 2012 campaign, Buchwald went on to win by 9 percentage points against the incumbent.
During his first term Buchwald had worked on several issues including:
When the New York State Education Department cut funding to the Harrison Central School District because their local teacher evaluation plan was submitted 17 minutes late, Assemblyman Buchwald enacted budget language to restore those funds.
When Verizon threatened to force customers to drop their copper landline service in Lewisboro and North Salem, risking miscommunication with emergency responders and putting seniors with medical bracelets at risk, Buchwald rallied the community and Verizon withdrew their request three days after the Assemblyman's press conference
When Buchwald saw that White Plains wasn't included in the New York Youth Works Program, he successfully fought to include the city in the state initiative to boost area small businesses and help our younger generation find employment.
When Assemblyman Buchwald learned that women across New York too often had to go through a court order and pay $100 in fees to simply change their middle name to their maiden name, like Hillary Rodham Clinton, on their driver's license upon marriage, Buchwald helped convince the Department of Motor Vehicles to update their policy.
And, most recently when Buchwald saw that the electric vehicle Tesla faced having its sales operations shut down in New York State, including in Mount Kisco and White Plains, he became the leading advocate for giving this environmentally innovative company a chance to succeed, and the resulting public support led to a compromise that keeps Tesla operating in New York.
In addition, Assemblyman Buchwald increased funding for Westchester schools and brought back $17 million in improvements for our area roads and bridges. He received a perfect score from the Environmental Advocates of New York, and is combatting corruption in Albany by demanding that public officials lose their state pensions if convicted of felonies involving breach of the public's trust.