NY Medical College Receives Approval in Mt. Pleasant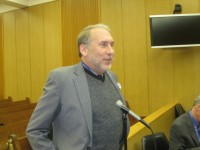 A plan by New York Medical College to renovate a former commercial building in Mount Pleasant to create space for faculty offices and classrooms received a major boost Monday night.
The planning board voted unanimously on Jan. 13. to grant site plan approval for the project at 19 Skyline Drive in Hawthorne.
New York Medical College purchased the existing building in April to provide upgraded and more flexible space. The five-story structure contains 248,000 square feet and is situated on 12 acres off of Route 9A.
The commercial building, which was at one time used by IBM, currently has a 115-seat auditorium/conference room and an 80-seat outdoor dining plaza. There are also facilities that could be used as a fitness center and a 720-space parking lot.
New York Medical College Chancellor, CEO and Executive Dean Dr. Edward Halperin told the planning board the project includes plans call for the classrooms to be used for small group instruction. He said the facility is needed because of the deterioration of space used by the college at Munger Pavilion in Valhalla.
Halperin said the college plans to keep nearly all of the 720 parking spaces, which exceed the minimum required by town code.
Planning board member Joan Lederman said she supported the project, which would require no changes to the building's exterior.
"To me this is easy, a no-brainer," Lederman said.
No residents spoke during Monday night's public hearing. The hearing was closed by the planning board prior to the vote on site plan approval.
For the project to move forward, approvals must still be obtained from the town board and the zoning board of appeals. The town board would need to provide a special permit for the project while the ZBA must issue variances because the college does not have at least one athletic field and the building does not have the minimum setback required under the town code.
Supervisor Joan Maybury said the remaining approvals could be provided next month.