NY License Plate Fees Under Fire from Lawmakers
We are part of The Trust Project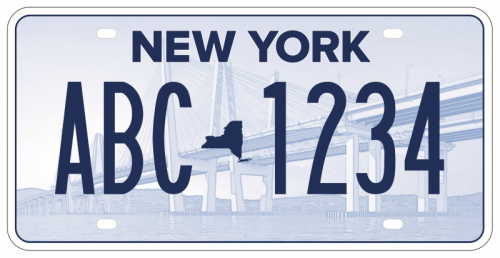 A plan to force New Yorkers to purchase new license plates that could cost them as much as $45 was slammed by local state representatives last week.
Beginning in April 2020 drivers that renew their motor vehicle registration with license plates more than 10 years old will be mandated to purchase a new one to the tune of $25, according to the state Department of Motor Vehicles and Governor Andrew Cuomo's office. If drivers want to keep their current license plate number, they will then have to fork over another $20.
The change comes as New York will rollout a new license plate design starting next year. There are five options on the table, including two that have a variation of the Statue of Liberty, one of the Mario M. Cuomo Bridge (commonly referred to as the new Tappan Zee Bridge), and two that are of different scenery in the state.
Residents are able to vote on which plate design they'd like to see the state adopt, but money the plate would cost got sharply criticized.
Assemblyman Kevin Byrne, a Republican, said the new license plate charge is "nothing more than another cash grab to justify more wasteful spending by Albany" and is a new tax on state drivers. The new charges put in place were not approved by the state Legislature, Byrne noted.
State Sen. Sue Serino, a Republican, called the plate exchange "a money grab plain and simple." She urged the DMV to rethink the plan before it goes into effect next year.
"Following a legislative session where one party control brought with it the passage of new taxes and fees on everything from internet purchases to paper bags, this proposal only adds insult to injury," Serino, who took a transparent shot at Democrats, said.
Dozens of state lawmakers, many Republican, have been critical of the cost. Local officials have also taken notice.
Putnam County Clerk Michael Bartolotti, a Republican, said the latest move by the state is simply a ploy to get "more money out of its already overly- taxed residents."
The last mandatory plate exchange occurred in 2001 with the replacement of plates costing $5.50, Bartolotti said.
"Drivers should be given the option to keep their old plates instead of being forced to buy new ones," Bartolotti stated. "They also shouldn't have to incur an additional fee just to keep the same plate number, which many people prefer to do since it is tied to registrations and EZ Passes. I highly support giving drivers more of a say in this process."
Cuomo, last week, defended the price for new plates, pointing out the cost was voted through by state lawmakers in 2009 before he even took office, according to the Democrat and Chronicle. Cuomo said the new plates are required because reflective plates are supposed to have a life expectancy of 10 years by industry standards and the new plates would be optimized for the state cashless-tolling plan to the entre Thruway system next year, according to the D&R.
DMV commissioner Mark J.F. Schroeder, in a statement, echoed Cuomo's words and stated that new license plates have been $25 for more than ten years and was put in place by state lawmakers at the time. The new plates are meant to ensure cameras will pick up the license plate number for each driver that goes through cashless tolling or a red light.
"The legislature has not acted to change that fee, continuing the $25 charge every year since, under both Republican and Democratic control," said Schroeder.
Schroeder said Cuomo's administration was willing to lower the existing fees in response to the backlash from legislators.
"If the legislators are sincere and want to lower the fee immediately, although they haven't in the past decade, the Governor has made clear he invites them back for a special session to do it," Schroeder said.