NY Liberty Tina Charles an All-Star in Many Ways
We are part of The Trust Project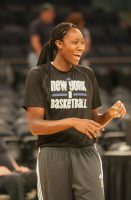 NY Liberty Center Tina Charles has been selected to her fifth WNBA All-Star Team this year, while playing in only her seventh season in the WNBA. Furthermore, the Liberty's 6'4" center was selected to the All-Star Starting Line-up for the third time in her career.
Charles, the 2012 WNBA Most Valuable Player, was second in the WNBA fan vote for the Eastern Conference, first in the media vote and first in the players vote with the new selection process instituted by the WNBA this year.
"It is a blessing, when it came to starting everybody had a vote so just to be voted by my piers means the world to me. I am looking forward to having fun and enjoying the time," stated Charles.
The fans contributed 50% of the votes to determine the WNBA Starters, while current WNBA players and a panel of media members accounted for 25% each of the votes cast.
Relative to the growth of the WNBA in its 21 years of existence; the All-Star voting doubled this year in comparison to the voting for the 2015 All-Star Game. Fans cast 604,680 votes this year for the Eastern and Western Conference All-Star Starters, compared to 280,670 in 2015. There was no All Star Game last year due to the Olympics.
"It shows the growth of the league and how many individuals are paying attention to us. The WNBA is doing a great job supporting and promoting us. I am thankful for their support," commented Charles.
The Verizon 2017 WNBA All-Star Game will be played on Saturday, July 22, at Key Arena, in Seattle, Washington. The WNBA All-Star Game will be televised live on WABC, with a game time of 3:30 p.m.
Besides Charles, the starters for the Eastern Conference include, Elena Delle Donne of the Washington Mystics, Tiffany Hayes of the Atlanta Dream and Jonquel Jones and Jasmine Thomas of the Connecticut Sun.
The Western Conference All Stars are led by Sue Bird from the Seattle Storm, who will host the 14th Annual WNBA All-Star Game. Bird was selected to her 10th All Star Game, which ties retired legend Tamika Catchings for the most in WNBA history. It is the eighth time Bird was selected as a Starter.
Also selected as Starters for the Western Conference are Diana Taurasi, of the Phoenix Suns, Maya Moore and Sylvia Fowles of the Minnesota Lynx and Candace Parker of the Los Angeles Sparks.
The Western All Stars will be coached by Minnesota Lynx Head Coach Cheryl Reeve and the Eastern All Stars will be led by NY Liberty Head Coach Bill Laimbeer, as the Lynx and the Liberty sustained the best records in their conferences in 2016.
Laimbeer is not so thrilled about flying out to Seattle for the game and admits he could use the rest. "I would rather have the days off; it is a long season and we look forward to days off but I have to go do this," commented Laimbeer.
However, Laimbeer is thrilled for Charles, who he designates as the hardest working player in the WNBA. "There is no question that Tina deserves to be an All-Star every time. No player works harder or means more to their team than Tina Charles," acknowledged Laimbeer.
On July 6, Charles became the Liberty franchise leader in rebounding, while posting her seventh double-double of the season with 29 points and 12 rebounds in a win against the Storm. Charles (1,096) passed Liberty legend Vickie Johnson, (1,053), for the franchise leader in rebounding. Johnson is presently the Head Coach of the San Antonio Stars.
Charles, after ending last season as the WNBA scoring and rebounding leader, is presently second in the league in scoring, averaging over 20 points per game and third in rebounding with 9.5 per game.
However, even more praiseworthy than her consistent WNBA league leading performances, are Charles's charitable endeavors. Charles started Hopey's Heart Foundation in April 2013, in memory of her late aunt Maureen "Hopey" Vaz, who passed away due to multiple organ failure on March 9, 2013.
Hopey's Heart was founded to prevent Sudden Cardiac Arrest deaths concerning promising student athletes. Besides Charles late aunt "Hopey" who was known for her giving heart, she was influenced to form the charity after the death of Wes Leonard, an up and coming high school basketball player in Michigan, who died of Sudden Cardiac Arrest at the end of a basketball game in March 2011. A defibrillator on site would have saved his life.
Hopey's Heart Foundation provides Automatic External Defibrillators, as well as CPR Training to prevent heart ailments and other injures in student and amateur athletes. Hopey's Heart is also raising awareness of SCA, through the provision of health education and medical equipment donated nationally to schools, community centers and recreational facilities.
"I just believe that I am doing God's will for my life that is all it is about for me. I never want to be defined by what I do and the sport I play and Hopey's Heart gives me an outlet to show who I really am," said Charles.
Charles donated half of her WNBA salary to Hopey's Heart when it was formed in 2013. However, this season and for the past two seasons, Charles has donated her entire WNBA salary to her Hopey's Heart Foundation.