NY Liberty Hire Legend Bill Laimbeer: But Can't Cure Fever
We are part of The Trust Project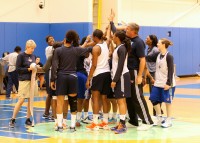 Not sure what inspired the Indiana Fever in the third quarter against the New York Liberty, on Saturday, at the Prudential Center in Newark, New Jersey. Nonetheless, the defending WNBA Champions outscored the Liberty 31-6 in the third quarter to defeat the harbor blue, orange and green, 74-53.
Possibly, the Fever (5-8) recollected in the third quarter against the Liberty that
U. S. President Barack Obama had just honored them at the White House on June 14, which may have revitalized their 2012 WNBA Championship character.
The Fever had struggled this season, while losing eight of their last 12 games before defeating the Liberty. The Fever tallied a seven-game losing streak from May 21-June 25, before regaining their composure of late winning three of their last four games. The Fever is presently in fifth place behind the Liberty (6-8) who is in fourth place in the WNBA Eastern Conference.
The Liberty is a revamped squad this year, including their coaching staff. The Madison Square Garden front office brought in a legend to lead the Liberty and the legend brought in a legend to assist him and another to play for him.
New Liberty General Manager and Head Coach Bill Laimbeer is most notably known as a member of the Detroit Pistons "Bad Boys" teams that won back-to-back NBA Championships in 1989 and 1990. Laimbeer is one of only 19 players in NBA history who reached the milestones of scoring over 10,000 points (13,790) and grabbing 10,000 rebounds (10,400) in their careers.
However, Laimbeer, after his NBA playing days, also made his mark coaching in the WNBA. He was the Head Coach of the Detroit Shock (now Tulsa Shock) for eight years, before coming to New York this season. Laimbeer led the Shock to six consecutive playoff appearances, while winning the WNBA Championship three times, 2003, 2006 and 2008.
Furthermore, Laimbeer knows what it takes to rejuvenate a team in the WNBA. He took over a 9-23 Shock team in 2003 and won 25 games and a WNBA Championship in his initial season at the helm. Laimbeer received WNBA Coach of the Year honors for his efforts in 2003.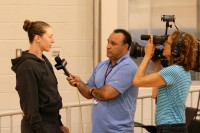 "I see a (Liberty) team that we are trying to build into a competitive championship ballclub. We have some pieces here as Cappie (Pondexter) and Essence Carson are two staples. I also know Plenette (Pierson) and Kara (Braxton) are quality players with Championship experience and now we have to build around them," explained Laimbeer.
And who does Laimbeer decide to add to the scoring of his "staple" players of Cappie Pondexter (18 points per game) Essence Carson (14 points per game) and Plenette Pierson (11 points per game) this season? No other then WNBA scoring legend Katie Smith, who won two Championships with Laimbeer and the Shock in 2008 and '09.
Smith is a seven-time WNBA All-Star, who is playing in her 14th season in the league. Smith has a remarkable career average of 13.7 points per game, while shooting
37 percent from the three-point line and 86 percent from the foul line for her career.
Smith moved into second place on the WNBA All-Time Scoring list this year, on May 25, when she scored her 6, 272-point.  "It makes me feel good because basically it shows that you have been doing a very good job for a long time," said Smith, who was also awarded the WNBA Cares Community Assist Award by State Farm for her contributions to the community in June.
Most notably missing from the Liberty roster this season is center Kia Vaughn, who was the number nine overall draft pick by the Liberty in the 2009. The Rutgers University graduate played four seasons for the Liberty before being traded to the Washington Mystics in the off-season for two draft picks.
Nonetheless, Liberty center Kara Braxton has stepped up her game under her former Championship coach Laimbeer.  Braxton, who joined the Liberty in 2011, won two Championships 2006 and '08 with Laimbeer, and the Shock. Braxton has started 13 of 14 games for the Liberty this season, while averaging nearly eight points and seven rebounds per game.
A very pleasant addition to the Liberty roster this season is Kelsey Bone, who was drafted fifth overall and picked number one by the Liberty in the 2013 WNBA Draft. Bone is already paying dividends for the Liberty.
The former Texas A&M forward/center has logged 22 minutes per game, while averaging 6.6 points and six rebounds per game this season. "No, this is about what we expected from Kelsey," responded Laimbeer. "I think she will eventually understand what she can do better but right now she is progressing pretty well."
Laimbeer has also hired a couple of quality assistant coaches to help him develop the Liberty. Laimbeer hired legendary center Taj McWilliams-Franklin who played 14 seasons in the WNBA. McWilliams-Franklin reunites with Laimbeer after winning a Championship with him and the Shock in 2008.
McWilliams-Franklin is a six-time WNBA All Star who played with the Liberty in 2010. The former Liberty center also won a Championship with the Minnesota Lynx in 2011. McWilliams-Franklin is one of only two players in the history of the WNBA to record 5000 points, 3000 rebounds and 400 block shots in a career.
Laimbeer also reunited with nine-year WNBA veteran Barbara Ferris, who joins his staff as an assistant coach. Ferris won a Championship with Laimbeer in 2003, his first year as Head Coach of the Shock. Ferris is also a returning Liberty player, who played at Madison Square Garden in 2006 and '07.
"Taj is very knowledgeable both offensively and defensively, as well as personal wise, as is Barbara in many ways," acknowledged Laimbeer.  "I think they are getting a good education on how to be coaches and assistant coaches and they are both going to be fine professional basketball coaches," evaluated Laimbeer, regarding his first year assistant coaches.
Legendary Liberty center Kym Hampton reflected on the reaction of the fans so far to Laimbeer joining the Liberty. "The fans responded so positively. Laimbeer brings a whole new energy to the table. The fans seemed refreshed," said Hampton, who presently serves as Fan Development Leader for the Liberty.