NY Knicks Media Day Comes to Ritz-Carlton, White Plains
We are part of The Trust Project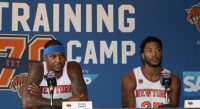 The New York Knicks Opened their 2016-17 Training Camp with Media Day at The Ritz-Carlton on Renaissance Square, in White Plains, on Monday. Knicks superstar Carmel Anthony (left) answered questions from the media as did newcomer (right) Derrick Rose.
"I actually feel great but it is a different feeling from a physical standpoint. It is the best I have felt in a long time," said Anthony, who was a member of the 2016 USA Olympic Basketball Team that won a Gold Medal in Brazil.
Rose came to the Knicks this season after a blockbuster offseason trade with the Chicago Bulls that brought him and teammate center Joakim Noah to New York. "I feel my game has always been mid-range, one dribble or two dribbles. I feel that I have a great backboard shot. If I can get to a certain area, I am able to be more efficient," revealed Rose.
Rose also did not shy away from questions concerning a pending Civil Suit against him and a recent active criminal investigation by the Los Angeles Police Department that could possibly result in criminal charges, concerning an alleged sexual assault in 2013. "I will have to miss time; that is part of it. I will let my lawyers and the team handle it. I am sure I will be proven innocent. I feel I did not do anything wrong," categorically stated Rose.
As far as the 2016-17 Knicks producing on the basketball court, Anthony is certainly more excited about the Knicks prospects this season than in past years. "I do not think there has been this kind of excitement surrounding our team since I have been here over the past few years. The focus level is at an all-time high," said Anthony.
NY Knicks President Phil Jackson did not mince words when asked what success would be measure by this season. "A Championship," replied Jackson.