NY Dance Faktory, Putnam Valley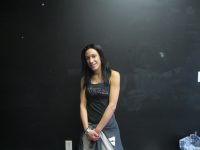 The NY Dance Faktory has been a popular business located on Route 202 in Cortlandt for the past four years.
But the business is scheduled to move to downtown Putnam Valley, with classes beginning on January 2.
Peekskill resident Cindy Hadjidion explained last week why she decided to move her establishment. "It was a good opportunity that came at the right time. My lease was up at the end of the year," she said. "It's a great, great location."
The new site is about five times as large as the roughly 1,000-square-foot Cortlandt location, she said. The bigger location will now allow her to offer two classes that can take place at the same time because there will be two studios.
To mark its move to Putnam Valley, NY Dance Faktory will host an open house on Sunday, January 8. Free classes for all ages will be held all day at the open house. "People can come in and look around. They can take a class. There's giveaways," Hadjidion said.
Hadjidion said her clients are excited about the move to Putnam Valley, with the new site being more convenient for some of them. But for even those clients who will have travel a bit further to the new site they support the move "because the space is just beautiful and the kids are going to get more out of it being in a larger location," she said, adding that she has not lost any clients as a result of the move. NY Dance Faktory will continue to offer classes for all ages at its new location.
Hadjidion said part of the name of her business is Faktory, rather than Factory "to be different." In addition, about nine year ago she choreographed and produced a hip hop video for children called "Funk Faktory."
NY Dance Faktory is the first business Hadjidion has owned. She opened her facility after teaching dance for two decades. "It was time for me to do my own thing," she said.
Hadjidion will continue to teach dance and fitness classes at the Putnam Valley location. Dance classes in all genres will be offered from age two through adulthood, while many fitness classes will also be provided.
Hadjidion is the main choreographer for the competitive team made up of students at NY Dance Faktory and there are also specific Hip Hop competitive teams as well as the Junior Stars Performance Team, a non-completive group that performs every year at various local events. A year-end recital featuring students from the studio is held annually in May and various summer programs are also provided at the facility, she noted. Danielle Purdy, one of main teachers, also oversees several classes.
Hadjidion said her experience is one of the keys to the success of her business. "I've been doing this a long time," she said.
In addition to keeping her clients for many years, Hadjidion said, "I found ways to create new things for new customers. "
Hadjidion said she was looking forward to working in her new space. "I think the bigger space is going to be a great thing for all of us."
NY Dance Faktory is located at 12 Peekskill Hollow Rd. in Putnam Valley. For more information, visit http://nydancefaktory.com. The business also has a Facebook page.