Nurse Apprentice Makes Full Circle At White Plains Hospital NICU
We are part of The Trust Project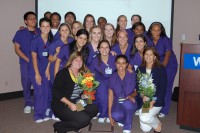 White Plains Hospital held a graduation ceremony for 22 students on Friday who completed an intensive, seven-week apprenticeship program during July and August.
The nurse apprentices, who came from communities all around Westchester, included a special student this year. Kathryn Linehan of White Plains was the first baby to be admitted into White Plains Hospital's brand new NICU in 1994. She came back this year to work with the same doctors and nurses who cared for her.
Kathryn and her family have stayed in touch with White Plains Hospital's NICU physicians and nurses through the program's annual reunions. This experience, and the encouragement of Dr. Jesus Haile-Marti, the director of NICU, made her choose nursing as a career.
Kathryn did a three-week rotation in the NICU this summer. She is studying nursing at St. John Fisher College in Rochester this fall.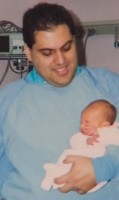 The nurse apprentice program is designed to help meet the critical need for nurses in the Hudson Valley. Many apprentices are later hired by White Plains Hospital.
During the rigorous full-time, five days per week program schedule, the apprentices experience working in clinical areas in the Hospital including pediatrics, the emergency department, endoscopy, post-anesthesia care unit, ICU step-down, labor and delivery, maternal-child, medical-surgical, oncology and neonatal intensive care. They also perform supervised tasks such as answering call bells, taking vital signs, assisting patients with meals, assisting nurses as needed and sitting with patients, reading to them and keeping them company. They further receive instruction from members of the nursing staff on a range of topics such as patient safety, infection control, and general patient care.
"This is a highly selective program and we are once again very fortunate to be congratulating a truly amazing group of young men and women who have shown such passion and dedication in their path to a nursing career," said Annie Norris, M.S. Nurse Apprentice Program Counselor during the graduation ceremony in the hospital's auditorium. "It is wonderful for us to see them develop and gain valuable experience that they can carry with them for years to come, and the Hospital, in turn, benefits as well by hiring so many of them back as full-time nurses after they complete their studies."
Named after the late Richard P. Biondi, who was a Senior Vice President of White Plains Hospital and was instrumental in leading fundraising initiatives on its behalf, the nurse apprentice program has been coordinated by Norris and Monica Purdy. They direct the community outreach program at local schools and screen, select, evaluate and oversee the apprentices.
The apprentice program started in 2006 with 10 participants and has graduated 103 participants to date. The program was initially made possible by a grant from the Department of Health and Human Services, Health Resources and Services Administration, as well as funding from White Plains Hospital.
This year's apprentices are:
| | |
| --- | --- |
| Jose Saire, Port Chester; Mark Soriano, White Plains; Catherine Petitti, Eastchester; Luiza Andrade, West Harrison; Mildres Aguirre, Port Chester; J'ana Aikman, White Plains; Emily Frantzen, Blauvelt, Shaina Hernandez, White Plains; Jennie Chieco , Bedford Corners; Julie Berkery, Pearl River; Kathryn Linehan, White Plains; Ginger Fitchett, Pomona; Darien Pierce, White Plains; Anthony Kellman, Bronx; Chrissy Ryan, Tappan; Tiffany McAuliffe, Tuckahoe; Hope Wilkinson, White Plains; Taylor Hubner, Yorktown Heights; Julia Gonfiantini, Katonah; Nickole Morgan, Mamaroneck; Alexa Fratarcangeli, Yonkers; Kelly Castro, New Rochelle. | |