Opinion Advocates for ideas and draws conclusions based on the author/producer's interpretation of facts and data.
Nothing Like a Hearty Tavern Meal to Kick Off Dining in the New Year
We are part of The Trust Project
By Morris Gut
There is nothing that brings out the true local color of a community than your friendly local pub or tavern. Comforting venues to sort out the past year and bring in the new.
Here are a few of my favorites in Westchester, some of whom have been filling those pints for decades and offer the best dining deals.
Dunne's Pub
Dunne's is a neighborhood treasure, an authentic Irish tavern with all the traditional Gaelic accouterments intact.
New owner Declan Farrell, who also operates Vintage on Main Street in White Plains, has upgraded the premises but has taken great strains not to get caught up in the modernist mode. It is a friendly, home-style place with a good kitchen, dishing out generous servings of traditional Irish-American fare at prices that will leave some money in your wallet. Declan and his staff also know how to pour that pint of Guinness while keeping the crowd in spirited conversation.
Try kitchen favorites such as their fabulous corned beef Reuben sandwich, Plain Jane Burger served on a Kaiser roll, beer-battered fish 'n' chips, grilled Irish bangers and cheddar cheese meatloaf served with Irish beans and mashed potatoes.
Oktoberfest is celebrated the first Thursday of every month all year. Irish music sessions. Open seven days for lunch and dinner, along with Sunday brunch. Municipal parking is free in the evenings.
Dunne's Pub, 15 Shapham Place, White Plains. Info: 914-421-1451 or visit www.dunnespubandrestaurant.net.
Squire's of Briarcliff
Proprietor Kurt Knox has been serving patrons since 1967. No easy task in this business, for sure. When I entered the bar/lounge area for the first time, I was made to feel right at home, the way it should be in the hospitality trade.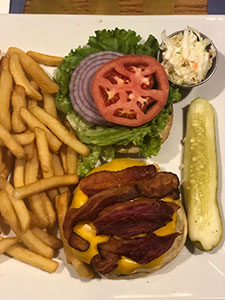 Why do I enjoy old venues like Squire's? The stories, history and memorabilia on the walls in the bar and dining room walls.
I recall hearing of their award-winning burgers year after year in the local media. So that's what I wanted on this visit. I zeroed in on the Squire's Burger, topped with bacon and cheese and served on a soft bun with a mountain of fries. Their basic burger probably has not changed in years and has withstood the test of many palates over time. Mine, too, I am pleased to report. It was a retro-delish indulgence.
I did notice prime rib listed on the menu on weekends. Not too many places serve it these days.
Squire's, 94 N. State Rd., Briarcliff Manor. Open daily. Free parking. Info: 914-762-3376 or visit www.squiresbriarcliff.com.
McShane's Public House
Edmund Cleary had worked for Dunne's Pub for many years, a personable barkeeper who knew how to keep the crowd buzzing. Vincent Furey tended bar at Davy Byrnes in Port Chester. Longtime friends, they partnered to open McShane's Public House, converting a former Latin restaurant into an Irish gastropub with a wraparound bar, original tin ceiling, table and booth seating, a free-standing community table and plenty of TVs to keep up with daily events.
The best news of all is the menu offers above-average gastro-fare loaded with flavor. Have their overstuffed corned beef Reuben, a winner for its tender corned beef, pickled cabbage, stout mustard and Gruyere cheese, or try their chicken tenders, plump juicy burgers and McShane's Fish & Chips.
McShane's Public House, 123 N. Main St., Port Chester. Info: 914-937-7800 or visit www.mcshanesportchester.com.
The Barley House
A warm, friendly greeting from the staff was a welcoming start to my recent visit to The Barley House on Commerce Street in Thornwood. The wraparound bar with its barnwood accents and high tops looked inviting. There is a good craft beer selection posted on the wall in artsy fashion.
There is another dining room on the side of the freestanding house and an open-air deck. Watching several dishes emerge from the eclectic American kitchen caught my attention. Portions were very generous and nicely plated, too. A couple near me ordered a giant homemade soft pretzel with dipping sauce. That was just for starters.
Then there were those overstuffed sandwiches. My pastrami Reuben with Swiss, coleslaw and Russian on rye, served with fries was decadence on a plate. Their burgers are prepared with a blend of short rib, brisket and chuck, served on a brioche bun.
Owners Bobby Harris and Rob Nugent also operate The Barley Beach House in Rye and the seasonal Barley on the Hudson in Tarrytown.
The Barley House, 665 Commerce St., Thornwood. Info: 914-495-3333 or visit www.thebarleyhouseny.com.
Horsefeathers
The storied towns and trails that make up the Sleepy Hollow area are loaded with fables and tales, and there are some dining venues dotting this landscape along the Hudson River that bring out the best of it.
One must certainly be Julia McCue's popular Horsefeathers on Route 9, a pub and restaurant that has been part of the local scene since 1981. You are greeted by a convivial staff ready to serve you. The menu offers a copious selection of more than 100 specialties.
The vintage metal-topped wooden bar is lined with cozy mini booths. The larger dining area is highlighted by a large wall mural depicting a cross-section of famous authors, from Hemingway to Vonnegut, with readings from each.
The Knickerbocker, their 10-ounce burger topped with "rolled in" caramelized onions and horseradish cheddar on a soft bun, is served with hand-cut steak fries. Their Cobb Salad, with chicken, cheddar, bacon, tomato, hardboiled egg and croutons, is served with a side of blue cheese.
Horsefeathers, 94 N. Broadway, Tarrytown. Info: 914-631-6606 or visit www.horsefeathersny.com.
Duck Inn
Proprietor Paul Collins has been at the helm for 20 years, but the place has been operating in one form or another for a century. If you've been in Mamaroneck, you must have noticed it across from Harbor Island Park on Boston Post Road. The façade is strewn with ducks, and there are duck artifacts inside, too.
It is housed in what used to be part of Mamaroneck's historic George Washington Hotel that used to be a Pony Express route. It is said that Al Capone even ran booze through here during Prohibition.
Well, the cozy bar is strewn with memorabilia and the friendly barkeepers make sharing a brew or two most congenial. Please note, there is no food. You are a short walk from some good eateries, though. This is a true pub where spirited conversation takes center stage. It is just around the corner from the Emelin Theater and the Mamaroneck Public Library.
Duck Inn, 128 W. Boston Post Rd., Mamaroneck. Info: 914-835-8791 or visit its Facebook page.
White Plains Restaurant Month
Kicking off 2022, the White Plains Business Improvement District has launched its second annual White Plains Restaurant Month with a variety of dining options from the city's downtown. Restaurants are expected to offer prix fixe $20.95 specials for lunch and $30.95 specials for dinner and/or what is being called a second-tier enhanced dinner for $40.95. Take-out included. Sometimes there are caveats, so if you want to take advantage, I recommend calling your restaurant of choice in advance for details.
A list of participating eateries has been posted at www.wpbid.com/restaurantmonth.
Follow COVID-19 protocols and stay safe!
Morris Gut is a restaurant marketing consultant and former restaurant trade magazine editor. He has been tracking and writing about the food and dining scene in greater Westchester for 30 years. He may be reached at 914-235-6591 or gutreactions@optonline.net.