North Castle Considers Revising Bedford Road Parking Ban
We are part of The Trust Project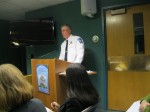 The North Castle Town Board is considering changes to proposed legislation that would ban parking on a portion of Bedford Road by allowing parking in the cul-de-sac at the end of the street.
The original legislation called for a prohibition on parking on the south side of Bedford Road from Maple Avenue to the dead end and between Maple and MacDonald avenues on the north side of the street.
Last week, police Lt. Peter Simonsen said on-street parking should be banned because the road is "too narrow."
The width of Bedford Road where parking would be banned is 25 feet, 12 feet on the north side and 13 feet on the south side, Simonsen said. The minimum width to accommodate parking is 32 feet, he said.
"There's no provision for parking there," he said.
Residents and local business owners said parking should be allowed toward the dead end on Bedford Road. Property owner Robert Dean said if the original parking ban went into effect, between 15 and 20 parking spaces for businesses would be lost.
Dean said he has 15 customer parking spaces in back of his establishment, NatureScapes, but patrons often opt against using those spots and park in front of his business instead.
"Any plan to eliminate parking should not be taken lightly," said Dean's wife, Sue.
Councilwoman Diane DiDonato-Roth said the town should explore parking in the cul-de-sac. The currently proposed ban could pose a hardship on area businesses, she said.
Simonsen said permitting parking in the cul-de-sac should be considered by the town. "My concern was the parking in the roadway," he said.
Supervisor Howard Arden said he also wanted to consider allowing parking on the cul-de-sac, but overnight parking should not be allowed.
The town board voted unanimously to close the public hearing. Director of Planning Adam Kaufman, who worked on the original parking ban legislation with Simonsen, will revise the proposed law in time for it to be discussed at the board's next meeting on Dec. 12.