No Criminal Charges for Cop in Chamberlain Shooting, Family to Push for Federal Investigation
We are part of The Trust Project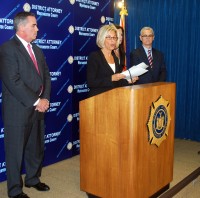 A grand jury has decided not to charge White Plains Police Officer Anthony Carelli, or any other members of the White Plains Police Department, in the death of Kenneth Chamberlain, a 68-year-old White Plains resident killed by police during a medical call to his Winbrook apartment last November. District Attorney Janet DiFiore announced the decision at a press conference Thursday afternoon.
"The grand jury heard all the evidence on the use of physical force and deadly physical force by the police in this encounter. The grand jury also heard the evidence of the threatened use of deadly physical force by Mr. Chamberlain during the encounter," DiFiore said, reading from a statement at the Westchester County Courthouse. "After due deliberation on the evidence presented in this matter the grand jury found that there was no reasonable cause to vote an indictment."
On the morning of Nov. 19, 2011, police responded to Chamberlain's apartment after he apparently accidentally set off the medical alert heart monitor he wore, causing an alarm to be sent to White Plains Public Safety. He refused to let police enter the apartment, which led to a long standoff in the Winbrook Housing complex at 135 S. Lexington Ave. Police broke down the door to enter the apartment and first used a Taser on Chamberlain, then a bean bag shotgun, but each failed to subdue him, according to police accounts. In the hours after the shooting, White Plains Police Commissioner David Chong said Chamberlain had come after officers with a knife and that "it appears that every avenue was used before the officer had to fire his service weapon."
In audio recordings of the standoff released by police Thursday, Chamberlain is heard refusing to let police enter his home.
"I did not call the police," he said at one point. "I have no reason to talk to them."
The confrontation, which lasted more than an hour, consisted mostly of police and an operator from Life Alert pleading with Chamberlain to open the door and Chamberlain refusing, saying he had not requested police assistance and at times expressing fear that the officers would hurt him if he allowed them to enter.
In a conversation with a Life Alert operator, Chamberlain's sister says her brother is on psychiatric mediation. At times during the standoff he seems deeply confused, at one point telling police that he's spoken to President Obama and Vice President Biden and that Secret Service is on its way. On several occasions he threatens officers, and tells them if they break down the door, "The first one coming in that door I'm gonna kill."
Police repeatedly tell Chamberlain to put down his knife and insist they'll leave once they can see that he's okay. At one point, an officer can be heard using a racial slur, and in a few instances police seem to be antagonizing the former Marine.
"Take the lock off, we've got to talk," an officer is heard saying. "Come on, you're a grown ass man, you can do it."
Chamberlain's family, including his son Kenneth Chamberlain Jr., have called for criminal charges to be filed against Carelli, who last month was identified as the shooter. After being allowed to see video and listen to audio of the events leading up to the shooting, Chamberlain Jr. and his attorneys have called the shooting unjustified. After the grand jury's decision was announced Thursday, Chamberlain's attorneys held a press conference outside the Westchester County Courthouse blasting the decision and promising to call for a federal investigation.
"At this point, I don't have any confidence in what [DiFiore] is going to do. We're going to take this out of her hands. I'm not waiting for her to do anything anymore," said Randolph McLaughlin, an attorney for the younger Chamberlain. "We're moving to a higher authority now."
Chamberlain Jr. was not at the press conference – his attorneys said he was out of town – but he did release a statement saying he was disappointed in the grand jury's decision.
"My family and I are profoundly saddened at the fact that there was no criminal indictment in the murder of my father Kenneth Chamberlain Sr. A full and fair investigation was promised by the DA but I have to question what evidence was presented to the Grand Jury," he stated. "As I have stated before it is hard to put trust in a system that I feel has failed me already and that [there was] no indictment sends a very strong message to the people of Westchester County regarding police Misconduct, brutality and criminality. There will be Justice for Kenneth Chamberlain Sr."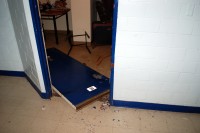 In a statement released Thursday afternoon, White Plains Mayor Tom Roach thanked the DA's office for their work but said the public safety department would be conducting its own investigation.
"Public Safety will be completing a full review of all aspects of the incident to determine whether protocols and procedures were followed, including the actions of all police personnel involved," Roach said in the statement. "White Plains is a great city but more importantly, a great community. Working together, we will move forward and bring positive change from this tragedy."
Commissioner Chong, in a statement sent out by the mayor's office, said he was confident DiFiore conducted a complete investigation.
"We recognize that a life was lost, and this decision does not diminish that fact," Chong said. "As a Department, we strive for continuous improvement. I have assured the Mayor that the Department will now complete its internal review of the incident."
The White Plains PBA praised the grand jury for its decision, with PBA President Robert Riley calling it an "obvious conclusion" that Carelli's actions were necessary and justified. He took aim at Chamberlain Jr.'s legal team, saying they had "repeatedly demonstrated an utter disregard for the truth and recklessly inflamed this tragic incident."
Bartlett pointed to racial slurs used by police during the confrontation, saying Chamberlain and his attorneys had waited to see and hear recordings of the incident before reaching any conclusions.
"They were the ones who created this situation," Bartlett said. "And I think it's sad that the PBA actually does a disservice to all of the good officers by shielding the bad ones, because when you do that you make it difficult for the good officers actually to continue to do their job."
Forty-two witnesses testified during the grand jury investigation, according to DiFiore, with half being civilians.