New Wellness Store in White Plains Offers CBD Products
We are part of The Trust Project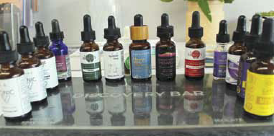 By Gordon Moccio
There's a new wave in the City of White Plains, and that wave is medicinal cannabidiol (CBD).
Come Back Daily, formally White Plains Vapors, at 210 Mamaroneck Avenue, which opened July 8, has a wide range of CBD products from oils to tinctures to edibles and smokable flowers.
CBD is the second most prevalent of the active ingredients of cannabis (marijuana). While CBD is an essential component of medical marijuana, it is derived directly from the hemp plant, which is a cousin of the marijuana plant. While CBD is a component of marijuana (one of hundreds), by itself it does not cause a "high."
According to a report from the World Health Organization, "In humans, CBD exhibits no effects indicative of any abuse or dependence potential. To date, there is no evidence of public health related problems associated with the use of pure CBD."
What makes Come Back Daily unique is their "try before you buy" philosophy, allowing customers to try a variety of oils and gummies before purchasing. Upon inquiring about the different types of products, a sales representative explained the key differences between certain oils.
"There are three types of CBD" full spectrum, broad spectrum, and isolate," said Heather, a sales representative at the store. "Full spectrum has all elements of the plant in it, including THC, but in amounts so small you won't feel the psychoactive effects. Broad spectrum has different terpenes than full spectrum, but still allows you to feel the effects of CBD. Isolate is just pure CBD with no other terpenes."
There are a wide range of ailments CBD can be beneficial for, such as insomnia, anxiety, depression, and pain relief.
Steve Phan and Michael Bowers, owners of Come Back Daily, discussed CBD and their business. Bowers said the motive to change from a vapor store to a wellness store was "the vape industry has been decimated in New York State as of May 17. Flavors are not available to be sold. Flavors were helping people to get off tobacco for many years, and New York State has banned them, and because of this, 92% of my business has been decimated."
Phan said personally CBD has improved his state of mind and helps him throughout his day-to- day life.
"I started using it more regularly because I did not want to continuously be awake and baking. CBD is a great way to start my day with that calm mentality and mental presence without being clouded," Phan said.
Bowers said he has seen a huge difference in his back pain when he started using CBD cream.
"When I get home, my wife applies it to my back, and I have seen a big difference in my back pain," he said. "It's not 100% cured so to say, but I do see a big improvement."