New Shop to Provide Residents With Taste of Britain in Mount Kisco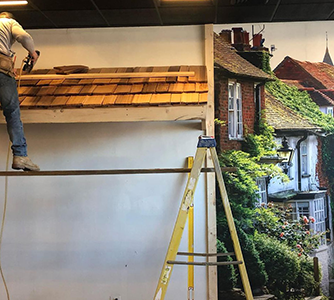 By Sydney Stoller
Stuck at home during the coronavirus pandemic, local Anglophiles and British expats have been unable to take a trip across the pond.
They may instead be satisfying their need for English culture by watching "The Crown," "The Great British Baking Show" or "Bridgerton," all trending shows on Netflix based in the U.K., and by drinking breakfast tea.
Fortunately, there will soon be a way for local residents to get a taste of Britain close to home.
A new retail shop called The Hamlet will be opening in Mount Kisco in late February at 23 S. Moger Ave. The Hamlet will mainly sell British food, books, gifts and vinyl records. The food items, mostly nonperishable snacks and dry goods, will be imported from England, which means that customers have the opportunity to try authentic delicacies like Cadbury chocolates and Monster Munch potato chips.
Monster Munch chips are a favorite of co-owner Drew Hodgson, who moved to the United States from England to tour as a musician in a 1990s alternative rock band. Born in Kendal, a small town in the Lake District near the Scottish border, Hodgson eventually moved to Manchester before relocating to America and settling in Mount Kisco with his wife, Leigh, and their daughters.
Opening the store alongside part-owners Karen and Mike Ransom has been a longtime dream for the Hodgsons. And their passion for The Hamlet and its merchandise is palpable.
"Ninety percent of the food in our store, you will not find in your local food store," he said. "If you live in town and you are used to British groceries, then you will be able to do your grocery shopping at our store. From the curries, the jams, the jellies, the teas, to the frozen foods, the pies, the pasties (a British meat pie) and the sausages, it's all here."
They are dedicated not only to stocking British delicacies and records, but to providing customers with an experience each time they enter the shop. With murals of the English countryside painted on the walls, a red vintage phone booth in the middle of the store and music of The Beatles playing from the speakers, walking into The Hamlet will make anyone feel at ease.
"I want people to walk in and feel like they walked into a little piece of England," Hodgson said. "I'm thinking about what I would want as an expat, as someone who is missing home."
In a climate where many local businesses are struggling to survive, opening a new store with enthusiastic proprietors is a breath of fresh air.
"It's exciting to see a new business open, especially one so unique," said Jen Gerken, owner of Porch, a shop on Main Street, which sells home accessories. "It's encouraging and energizing to see people invest in our community, especially during this challenging time."
By selling merchandise unavailable almost anywhere else, The Hamlet should help it lure new clientele to Mount Kisco.
As a musician who believes that records are the true way to enjoy music, Hodgson is committed to having a large catalog of vinyls, ranging from Motorhead to Harry Styles. Similarly, as a public school teacher, Leigh Hodgson has worked tirelessly to provide literature for customers of all ages. She has stocked British authors spanning the generations, from Charles Dickens to J.K. Rowling.
Just as its merchandise covers a variety of interests, the name of the shop has many meanings. In a reference to the classical British literature that the shop will be selling, The Hamlet is an homage to the famed Shakespeare tragedy. It is also the brand name of one of the U.K.'s most famous cigars.
Finally, a hamlet is a word commonly used in England as well as in America to refer to a small village, which is fitting given the shop's location.
By the end of February, area residents may add a new meaning to the word – a place where they are able feel like they're at home and in England.
Until then, British television shows will have to suffice.