New Orchestra Lights Up Westchester
We are part of The Trust Project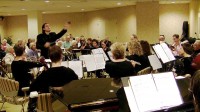 By Sam Barron
The New Westchester Symphony Orchestra (NewWSO) is making beautiful music and it wants everyone in Westchester to join.
NewWSO, which formed last year, holds open rehearsals every Wednesday at the Music Conservatory of Westchester on Central Park Avenue in White Plains. Musicians of all ages and abilities are invited to attend. NewWSO rehearses classical works by the great composers such as Mozart, Bach, Beethoven, Bizet and Tchaikovsky, among others, from 7:30 to 9:30 p.m.
Ben Niemczyk decided to start the orchestra, a not for profit, after several other orchestras closed down, leaving a void in Westchester.
"Everyone agreed that this was the time and place to do it," Niemczyk said. "People love playing music and want to play music. The satisfaction is immense."
NewWSO developed a positive relationship with the conservatory and began rehearsing there, with faculty members sitting in. Unlike other orchestras, there are no auditions and anyone can play any instrument they want.
This means that the orchestra is often eclectic as it features an accordion player, playing an instrument not often seen in chamber music.
"People feel comfortable, they like to take risks," Niemczyk said. "Looking at a piece by Beethoven or Bach, they may be afraid at first, but then it goes away. It's really a great place for people to relax. They realize that everyone else is there like them."
Niemczyk said that there is truly a sense of camaraderie in his orchestra, with friendships popping up and people going out to dinner or helping with fundraisers.
"You're getting all types of music and social aspects," Niemczyk said. "You can't go wrong."
NewWSO has 23 members, up from three when they first started, including the accordion player.
"This ensemble started from almost nothing," Niemczyk said. "That's an astonishing rise. We have gotten a lot of interest."
Niemczyk is hoping membership grows to 100 people, and expects to see more growth over the next six months. NewWSO performs classical orchestra, from the Baroque era up through the end of the 19th century. Niemczyk said he expects to do more light-hearted tunes in the future.
"We play music in its original orchestrated form," Niemczyk said. "We don't make any adjustments. It's the same stuff here that you hear in Carnegie Hall and Avery Fisher Hall. People don't believe they can play a movement of Beethoven until they do it, and then they are mesmerised."
NewWSO has performed at ArtsWestchester in White Plains, and does volunteer performances around the county. They have won rave reviews for the many senior citizens they have performed for.
"This is the kind of music they listen to," Niemczyk said. "It's real classical music being brought to them."
NewWSO plans to play concerts once a month from now until September. Though it is a lot of performing, Niemczyk feels that it will only make the orchestra better.
"We're going to be performing where you feel free to experiment and take risks," Niemczyk said. "We get a good concert and a show and we play our hearts out."
Niemczyk's claim to fame is being the conductor who conducts off of his iPad2 using an app called FourSquare that allows him to store up to 100 scores at a time.
"I try to stay current with technology and make the greatest use of the smallest devices," Niemczyk said.