New Mt. Kisco Gallery Opens as Part of Village Arts Council Effort
We are part of The Trust Project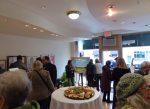 A new site for art lovers has popped up in Mount Kisco.
A pop-up art gallery has opened in an empty storefront at 10 S. Moger Ave. in the village's downtown. An artists' reception was held on Sunday to celebrate the opening.
The gallery is the first of many programs members of the recently formed Mount Kisco Arts Council hope to present. The gallery also provides an opportunity for the featured artists to sell their work.
The initial program features the art of five Mount Kisco residents: Alan Reingold, Rich Alexander, Cheryl Alexander Fitzgibbons, Andre Ferrara and John Rice.
Council board member Beth Vetara Civitello said pop-up galleries will temporarily use vacant storefronts.
"We're going to try to promote different types of art," Civitello said. "We're popping up all over the place. You don't know where we'll be next."
Initially, the pop-up gallery exhibits will be limited to artists who live in Mount Kisco, grew up in the village or have a business in the village. Civitello said because there are so many accomplished artists and artisans in the area, the council wants to make the exhibits as local as possible.
Civitello said the council is paying below market rate to rent the space for the first gallery, declining to be more specific. It has a contract to rent the space on South Moger Avenue through mid-January, but the agreement could be extended, she said.
"We want to bring the arts to Mount Kisco to facilitate all people and all dimensions and bring an excitement back to Mount Kisco through the arts," Civitello said.
She hoped the council would attract more people to the village who would potentially visit and support local businesses.
"I felt as being a lifelong resident of the town there was really one thing that was missing from the town, a real arts presence," said Lisa Abzun, a council board member.
Abzun, a printmaker and painter, said she hoped the next pop-up gallery would be located somewhere on Main Street. An art gallery is "an open space where people can hang out and kind of clear their mind for a bit" while encouraging conversation, she said.
Village Trustee Jean Farber, who also helped create the council, said she was thrilled to see its launch. After the Northern Westchester Center for the Arts left the village several years ago there was an arts void.
"I want the Village of Mount Kisco to own this," Farber said. It's going to be of them and for them and I want everybody to get involved."
Ferrara said he was honored to be invited to share his work in the gallery.
"It's giving an opportunity to so many artists," said Ferrara, a retired carpenter who draws with pen and ink.
Many of his pieces are of New York City buildings and landmarks, which he would sketch during breaks from work. He also has an exhibition at a gallery in Yorktown.
Cheryl Alexander Fitzgibbons recently began working on oil paintings, taught to her by her brother, Rich, whose works are also being featured. It's her first exhibit.
"It is fantastic," she said. "There's so many talented people and to bring more art to the people and to bring more people to Mount Kisco, it's a fabulous idea."
Rice, a watercolor painter who enjoys depicting wildlife, said when he learned of the pop-up gallery concept "it sounded like a great idea."
For more information about the Mount Kisco Arts Council, visit facebook.com/MtKiscoArtsCouncil.