New Leadership Selected for Putnam County Legislature
We are part of The Trust Project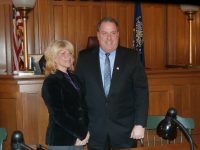 The Putnam County Legislature ushered in a new leadership team during its organizational meeting last week, with the new chairperson and deputy chairperson receiving unanimous support.
In 9-0 votes, lawmaker Joe Castellano was approved the chairman and Toni Addonizio was selected as the deputy chairwoman for the calendar year. Castellano replaces Ginny Nacerino, who served as chairwoman for two straight years. As chairperson, Castellano will make an additional $8,000 annually.
Afterward, Castellano, a Republican, said he was "humbled and honored" to serve in the top position.
"This is the best job possible," Castellano said. "I love living in Putnam County, I want to do right for the taxpayers of Putnam County and I'm just honored that the legislators chose me to be the next chairman."
Castellano has served for almost two terms and faces reelection this year in District 7. Before serving in an elected role, Castellano was on the Zoning Board of Appeals in the Town of Southeast for eight years and has worked for the Westchester County Clerk's Office for more than 20 years.
Nacerino nominated Castellano, who was the deputy chairman the last two years, for the new job.
Nacerino lauded Castellano for his work ethic and sound judgment. She called him "the epitome of a fine public servant."
"Joe is a man of integrity and maintains a calm and quiet demeanor," Nacerino said. "He is pensive and analytical and always gives careful consideration to all matters."
During his tenure on the legislative body, Castellano has been a reliable vote for initiatives and spending brought forward by the county executive's office, voting in lockstep with most of his colleagues on critical issues like the senior center lease at Butterfield and funding for Tilly Foster Farm in Southeast.
Castellano will be sitting right in between Nacerino and Legislator Carl Albano, who were the last two chairpersons the previous four years, during full legislative meetings at the historic county courthouse.
"They did a great job the last four years," Castellano said. "I just hope I can continue in their footsteps."
Following in the footsteps of Castellano as vice chair is Addonizio, who is just starting her second term in office. The new position is a quick ascension for the Kent Republican who never held public office before she won her first race four years ago.
Legislator Neal Sullivan nominated Addonizio and said during her tenure she's successfully advocated for her district and noted she has done a good job at uniting people to solve problems.
"Her intense focus on serving her constituents is unmatched," Sullivan said.
Nacerino backed up Sullivan's nomination, stating she's seen Addonizio grow and evolve the last three years.
"Toni is a woman of conviction," Nacerino said. "Her unwavering commitment to make sound decisions, which are not based on self-preservation, but rather the greater good, is most impressive."
Addonizio originally came onto the scene as an outsider when she challenged fellow GOPer Lou Tartaro and soundly topped him in a primary. In her first year, she voted against the proposed budget because it increased the health insurance costs retirees needed to pay. But over the last couple of years, Addonizio has supported most of the key initiatives put forward by County Executive MaryEllen Odell and the majority of the legislature. She's also held forums in Kent focused on hot topics occurring regionally, including Common Core.
"It is an honor to be voted in by my colleagues as the vice chair of the Putnam County Legislature," Addonizio told The Putnam Examiner. "I would like to thank them for their unanimous support, faith and confidence in me. I'm looking forward to a productive 2018 with my continued commitment to the people of Putnam County."