New Castle Set to Move New Sewer District Process Forward
We are part of The Trust Project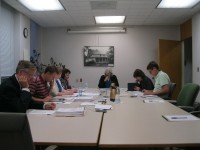 The New Castle Town Board is set to approve an application with the state comptroller's office when it meets on Aug. 13 that would be the next step in the process of creating a new sewer district in the northern part of town.
At its Aug. 6 work session, town board members said they were in favor of creating the district, which would be called the Northern Sewer District #1A—Riverwoods. The new district would include 148 homes in the Riverwoods town house complex
The district would be created to divert wastewater from the Croton Watershed.
Councilman Robin Stout said the sewer system would cost $25 million. All but about $10 million would be paid for by the New York City Department of Environmental Protection and the East of Hudson Water Quality Improvement Program Fund. The remaining approximately $10 million be paid by homeowners in the new sewer district via a bond that would be repaid over a 30-year period. "That will go to the district (residents)," town Supervisor Susan Carpenter said.
"I really think it's the right thing to do," Stout said.