Never Been to a High-end Wine Auction? Enjoy a Virtual Experience
We are part of The Trust Project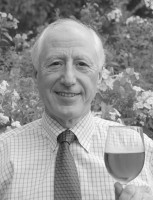 In the rarefied air of high-end auctions, the elite come together – in person or electronically – to bid against one another for sought-after rare collectibles. It is the thrill of one-upmanship that drives wealthy investors to bid against each other for the prestige to own and display these collectibles.
I've been fortunate to attend several wine auctions, mainly as an observer, but also as one seeking out "bargains" that pass under the radar of those caught up in the frenzy of the moment. Alas, I show nothing material for my efforts, although I have experienced a surge in my levels of adrenalin and endorphins.
As I pen this column, it occurs to me that many readers may not have had the opportunity to attend an auction house event. Allow me to regale you with my memories of the structure and excitement of attending my first Christie's auction a few years ago.
The preliminaries
The Christie's auction house event required a vetting process. I was required to first, complete an application to determine my financial worthiness, and second, establish a line of credit for bidding. All those who met these requirements were issued a catalog of the wines to be auctioned and a numbered paddle for tracking bids.
The event was billed as "The Finest and Rarest Wines Auction. Featuring the exemplary cellar of an esteemed collector." The wines were being sold post-mortem. The poor collector never had a chance to enjoy these fines wines. Or perhaps he never intended to. This collection may have been a legacy to pass on to his heirs, who instead chose to liquidate the holdings rather than perpetuate the collector's legacy. (I never found out the reason.)
With offering catalog in hand, I found a seat in the middle of the room of about 100 seats. The auctioneer's podium, with its time-worn gavel, was on the right-center of the room, next to a screen set up to display the information on the lots of wine to be offered. Along the side walls were banks of telephones manned by Christie employees. Above the seats were several blank monitors. This being my first auction, it wasn't clear to me how each of these elements fit into the auction process, but I was soon to find out.
The structure
The concept is simple. Bidders gather together, paddles in hand, to vie for a particular lot of wine specified in the catalog. It is assumed that each bidder has spent time poring through the catalog and is prepared to engage in the fast-paced bidding the auctioneer conducts.
As the bidding began, I quickly realized there were more participants than those present. As best I could discern, there were three groups of bidders other than those sitting around me: Those who had submitted pre-bids and were not in attendance; those who were on open phone lines with the Christie's employees; and those who were bidding online and whose bids were displayed on the aforementioned monitors.
I never found out how many ghost bidders were participating, but their presence was constantly felt as the auctioneer continuously acknowledged the back and forth competition.
The rush
As the auctioneer began in his familiar staccato voice, and remained in total control of the swirling proliferation of bids from the room and around the world, I was caught up in the subdued excitement. My eyes and head were in constant motion as I attempted to follow the flow of bidding.
Several of those around me were raising their paddles for every lot; others only sporadically. The gentleman seated to my immediate right bid on only one mid-auction lot, an offering of vintage Champagne, which he aggressively pursued, and won. He then summarily stood and walked out, his mission accomplished.
As for my participation? From the moment the auction began until the last lot was sold, my paddle was securely in hand – and under my seat. But my hands were sweating, my heart was racing and my face was bright red. The rush was incredible, and cost me not a penny – or a mortgage payment.
Nick Antonaccio is a 40-year Pleasantville resident. For over 20 years he has conducted wine tastings and lectures. Nick is a member of the Wine Media Guild of wine writers. He also offers personalized wine tastings and wine travel services. Nick's credo: continuous experimenting results in instinctive behavior. You can reach him at nantonaccio@theexaminernews.com or on Twitter @sharingwine.