Name of Officer in Chamberlain Shooting Revealed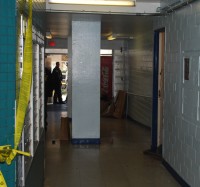 Anthony Carelli is the police officer who shot and killed White Plains resident Kenneth Chamberlain last November, White Plains Public Safety Commissioner David Chong confirmed Thursday.
Until Thursday, the shooter had only been identified by police as an eight-year veteran who had never previously used his firearm in the line of duty. Carelli's name was first reported by The New York Daily News.
Chamberlain's attorneys and family members, including son Kenneth Chamberlain Jr., have demanded the name of the officer be released. On Wednesday, Chamberlain Jr. said he was glad to see the name had been made public.
"I do feel that some of the pressure that not just myself but some of the people who have been supporting me, it was the pressure of the people who are in the community that have forced [Carelli's name] to somehow get out," Chamberlain Jr. said.
Police responded to Chamberlain's apartment early in the morning of Nov. 19 after he apparently accidentally set off the medical alert heart monitor he wore, causing an alarm to be sent to White Plains Public Safety. He refused to let police enter the apartment, leading to a long standoff in the Winbrook Housing complex at 135 S. Lexington Ave. Police broke down the door to enter the apartment and first used a Taser on Chamberlain, then a bean bag shotgun, but each failed to subdue the 68-year-old former Marine and correctional officer. In the hours after the shooting, Chong said Chamberlain had come after officers with a knife and that "it appears that every avenue was used before the officer had to fire his service weapon."
Police have since held their public comment, as the shooting is being investigated by a grand jury while the family plans to bring a lawsuit against the department and the city.
"Since this incident occurred the City of White Plains and the White Plains Department of Public safety have cooperated fully with the Westchester County District Attorney's office in their investigation," Chong said in a statement released Wednesday. "The Department has turned over all evidence in its possession to the District Attorney's office. We are confident that the presentation to the Grand Jury will be thorough. Given the pending nature of that presentation we will have no further comment until the Grand Jury completes its investigation and its findings are made public."
Later on Thursday, the White Plains Police Benevolent Association put out a statement defending Carelli.
"We are very disappointed that anybody would release the name of this officer during an ongoing investigation," PBA President Rob Riley said in an e-mail. "Officer Anthony Carelli has numerous commendations and has been an excellent police officer, both on and off the job, and he deserves the right to a fair and impartial inquiry."