My Trip to Capitol Hill, and the Desperate Need to Save Newspapers
Opinion Advocates for ideas and draws conclusions based on the author/producer's interpretation of facts and data.
We are part of The Trust Project
By Adam Stone
As I boarded an Amtrak train back home from Washington, D.C. last Thursday morning, leaving a city bracing for a potential (ultimately averted) government shutdown amid a debate checkered with misinformation, the capitol's dysfunction and discord provided an appropriate backdrop to the urgent mission that had brought me there.
The News/Media Alliance, an industry advocate, organized last week's D.C. trip to push for the Journalism Competition and Preservation Act (JCPA), a vital bill that needs to pass.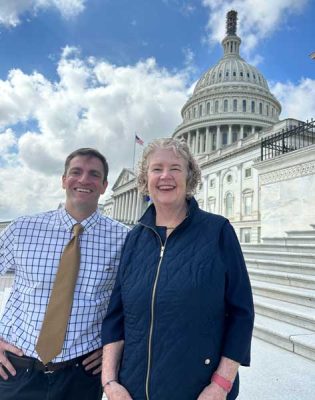 It would provide publishers a window of time to collectively bargain with Big Tech and negotiate an arrangement where we keep our fair share – a small piece of the digital revenue pie.
But after a whirlwind couple days on Capitol Hill, joining publishers from across the country to ask lawmakers to fix fundamental marketplace unfairness, I found myself thinking about, of all things, a visit 16 years ago to Staples in Bedford Hills.
It was 2007, and I'd recently launched The Examiner, then a print-only publication circulating in a pair of Westchester communities, Mount Kisco and Pleasantville.
I wanted to make photocopies of a few pages of the newspaper for reasons I can't recall. What I do recall, however, is the eagle-eyed Staples employee who objected.
Although so-called "fair use," common sense and case-by-case discretion frequently allows for this type of small-bore copying, the fact remains that newspaper content is copyrighted.
You can't just go around copying and redistributing newspaper pages for commercial gain.
On this particular day 16 years ago, Staples was responsibly and rightfully enforcing the law.
Apparently, copyright rules on that day in 2007 applied to a guy trying to photocopy a few pages from his own little newspaper but the same guidelines didn't and don't apply to history's biggest publishing behemoths, Google and Facebook.
Digital Photocopies 
On the train ride home to New York last week I popped onto Google, to remind myself of a firsthand example of what we're fighting against, in broad strokes.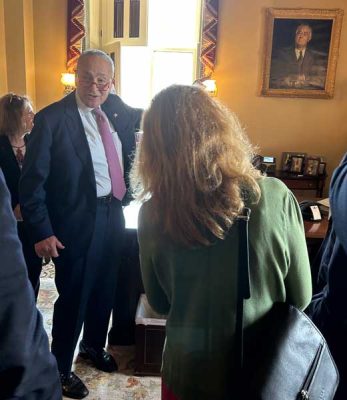 The day prior, we'd published a piece by Examiner reporter Michael Gold, headlined "Putnam Communities Increase Efforts to Compost Food Waste."
Michael took the time to interview local officials and prepared a professional newspaper report, which I paid him to do.
I googled the following question: "Any towns composting in Putnam?"
Our article was the first Google result, and you didn't even have to click on a TheExaminerNews.com link to read a portion of what amounts to a digital photocopy of the piece.
"Philipstown is the first municipality in Putnam to compost," an excerpt of the article at the top of the Google results page explained, followed by two additional sentences from the piece.
Unfair Use
Google also offered a link to our full article, yet most searchers don't bother clicking in that type of circumstance.
These types of excerpts of our articles are what Google euphemistically calls "featured snippets."
Don't worry, they say! You can ask us to have the content removed!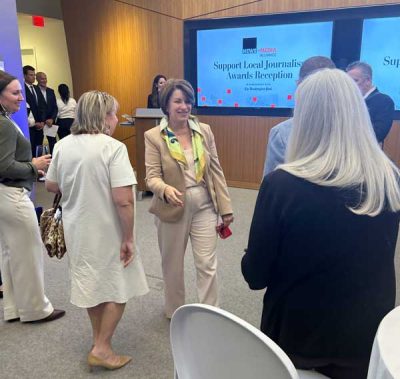 It's this type of asinine logic we're dealing with here.
The intergalactic conglomerate values newspaper content, because newspapers, generally speaking, abide by a code of professional standards, and our work tends to be fact-checked and credible, unlike much of the muck poisoning the digital ecosystem.
Our pieces help provide Google customers with credible search results. Google is then able to convert those eyeballs into ad revenue.
While there's also business opportunity for newspapers in producing content valued by Google, the company simply shouldn't be able to steal our work.
It's a complicated issue, in many ways, but, at its core, the central principle at play couldn't be any simpler.
Quick History 
I'll get to the JCPA and other solutions in a moment, but first a little historical primer and background context.
Copyright laws have failed miserably to keep up with the internet's impact on newspapers. Despite some efforts to address issues such as online piracy, we're basically being plundered with impunity, and the world has grown to accept the preposterous free-for-all of the past 25 years.
Almost a half-century ago, the Copyright Act of 1976 provided comprehensive federal copyright protection to original works.
But the Digital Millennium Copyright Act (DMCA) of 1998, established at the dawn of the internet age, introduced safe harbor provisions for online platforms, impacting how newspapers protect their content online.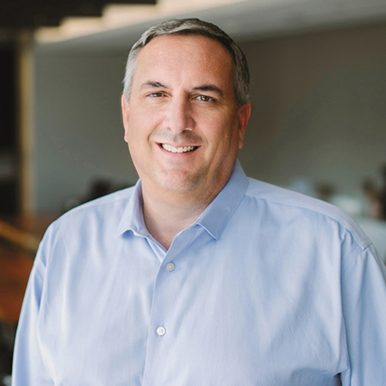 Newspapers have increasingly turned to licensing agreements and paywall models to try to monetize digital content. It hasn't been nearly enough to stop the continued bleeding.
The fair use doctrine, which allows limited use of copyrighted material without permission for purposes such as criticism, commentary, news reporting, teaching, scholarship, or research, began to take shape through legal precedent in the 19th century and was formally codified in the Copyright Act of 1976.
But "fair use" was never intended to mean "any use."
Inherent digital era challenges such as hyperlinking, aggregation and user-generated content aren't reasons to neglect the need for legal updates. Those challenges are actually the reasons we need to thread the needle of clear guidelines and strong protections mixed with the free flow of information.
Two decades ago, policymakers failed to revise copyright laws in a way that protects content creators. We need to erect guardrails that should have been under construction a generation in the past.
In fact, the carefree mistakes of the past in terms of copyright could foreshadow looming problems with artificial intelligence companies. That was another key point we made with legislators. Please protect us from the threats of AI.
Even tech executives, including Elon Musk, Mark Zuckerberg, Bill Gates and Sundar Pichai, conceded the need for government regulation of AI at a session in the U.S. Senate organized by Majority Leader Chuck Schumer (D-N.Y.) last month, a fact he trumpeted at our talk last week.
More on our Schumer meeting a bit later.
Sad Old Song
The country has lost more than a fourth (2,500-plus) of its newspapers since 2005, and is forecast to lose a third by next year. Industry analysts cite an alarming stat about the open wound: we're still shedding a pair of papers per week.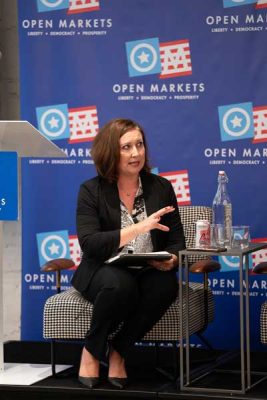 Newsroom employment has plummeted by an astounding 60 percent since 2005, and, despite an expanding audience, revenue plunged by 58 percent in the same time frame.
The industry's efforts to replace print ad and subscription sales with digital revenue has been marked by structural blockades.
As a result, the newspapers that have survived (along with the new digital outlets that have emerged and stuck) operate with woefully insufficient reporting staff sizes – Examiner Media most definitely included.
There's not enough revenue to pay a full stable of reporters to thoroughly cover communities across the country.
We miss tons of important stories every week, or can't go far enough in depth, despite the herculean efforts of a skeleton staff. And Examiner Media is a relative success story.
Because of the thinning of the journalistic ranks, too many news-hungry townspeople subsist on crumbs of quality local reporting mixed with large heaping portions of informational fast food via random social media posts and other inconsistent, unreliable authors.
While there's also often a treasure trove of incredibly valuable information shared by neighbors on social media, those types of community contributions should play a complementary role, and can't fill the journalistic void.
We still need professional reporters, trained in industry ethics, sitting through government meetings, taking copious notes, working sources and pouring over documents.
Solutions
What many people don't realize when reading the latest obituary of another American newspaper is that U.S. citizens consume more news than ever. There's no shortage of demand for our work.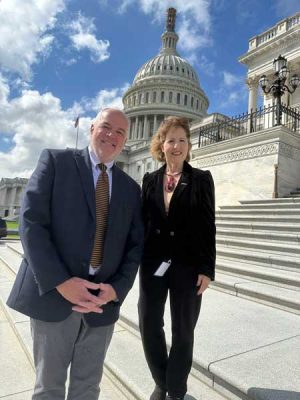 News organizations reach more than 135 million American adults each week.
With all this in mind, the News/Media Alliance led last week's advocacy charge for the passage of the JCPA.
It's worth noting how the bill would not be an unprecedented or unproven action by a federal government. Australia, for instance, passed similar legislation in 2021.
The Australian law included "baseball-style arbitration and resulted in hundreds of millions of dollars, newsroom growth and a vast increase in journalism jobs there," Alliance President/CEO Danielle Coffey explained in an editorial we published last month.
"But despite record audiences, news publisher revenue in the U.S. has dropped by more than 50 percent in recent years," Coffey observed.
Australia's law requiring Meta platforms and Google to negotiate content deals with media outlets has largely succeeded, according to a government report released late last year.
Thank You, Not Thank You
Here in New York, Google and Meta alone capture an insane 60 percent of digital dollars with their ability to collect consumer data. Meanwhile, the state's publishers employ the reporters who create much of the internet's best and most credible local information.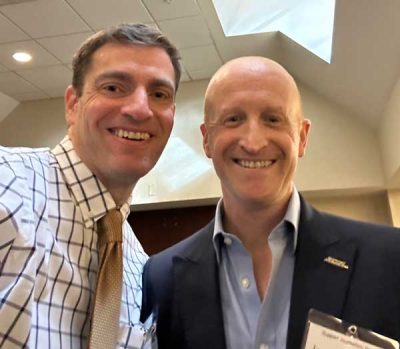 All we're asking for is an even playing field where they can't steal our work – yes, steal – then profit off it and ask us to say thank you.
The idea is to allow negotiation and ultimately fair market forces – not a pair of giant companies or the government – to rectify the long-term imbalance and resulting threats to the free press and democracy.
While both Google and Facebook have taken some steps to support local news in recent years, those steps remain deeply inadequate and strike me partially as a way to mitigate the bad PR around the edges.
If you believe in even a modest version of the notion that massive corporations should carry with them some degree of responsibility on profound societal issues, from an ethical standpoint, Big Tech's duty here is massive.
I've sought and received grant support and training resources from Facebook and Google. Yes, I'm grateful to the wonderful people within both organizations who are fighting hard for our cause and who care genuinely and deeply about the issue.
Some might say don't bite the hands that feed you. But, overall, these are the corporate hands that have choked thousands of newspapers to death and offered a few of us half-hearted and triaged CPR amid the carnage they helped create.
Back to the Future 
And as much as we'd love to see the JCPA pass to build a bridge to a sustainable long-term future, small newspapers across the country also need a shorter-term path toward survival.
That's why we also asked lawmakers to support a payroll tax credit for news outlets, which would help infuse dwindling bank accounts with the cash needed to keep fighting tomorrow, next week, next month and next year.
Then hopefully we'll all be prepared for the next decade and beyond.
The Community News and Small Business Support Act – previously known as the Local Journalism Sustainability Act – was introduced in July by representatives Claudia Tenney, a Republican from upstate New York, and Suzan DelBene, a Democrat from Washington state.
If enacted, the legislation would deliver a payroll tax credit to newspapers for employing local journalists.
The good news? There is substantial bipartisan support for these initiatives, but
not enough – yet – to get across the finish line. That's why newspaper publishers made the rare entry inside the political arena last week, to illustrate the gravity of the situation.
Mr. Stone Goes to Washington 
In various groups, we met with our home state lawmakers, Republicans and Democrats, senators and congressmen.
In addition to sessions with staff for Sen. Kirsten Gillibrand (D-N.Y.) and House Minority Leader Hakeem Jeffries (D-N.Y.), I joined with a contingent of more than a dozen newspaper leaders in a meeting with Schumer.
Schumer was a gracious host, showing us office artifacts such as an original painting of George Washington and bringing us afterwards to a balcony with a spectacular view of the Capitol. But it was in our meeting where he showed his famous strategic chops, laying out a clear roadmap of next steps.
The "Support Journalism Fly-In" was hosted by the News/Media Alliance, a nonprofit trade association representing more than 2,000 print and digital news and magazine publishers in the U.S. Our efforts included 84 participants representing news publishers in 25 states across the country.
Leaders from and affiliated with the alliance ran the play-by-play broadcast in our meetings, while us publishers offered a little color commentary.
As you might imagine, it's not often that big fish publishers and little minnows join forces. Corporate and independent media tend to hold divergent values and sensibilities.
But it was heartening to see major players like Gannett and Newsday push for the same policy as little fish like The Examiner and my colleagues at The Daily Catch, a small but mighty local news organization serving Rhinebeck and Red Hook in Dutchess County.
"We break stories, Google crawlers find them, interested readers enjoy them and learn from them, and we derive not one scintilla of revenue," Daily Catch Editor Emily Sachar stated in a piece for her publication, also noting how the big tech companies then serve ads against the content to monetize our work. "Don't get me wrong. We all need and use Google, we just want our fair share of the revenue they glean from our hard work."
In meetings with the legislative offices, Sachar cited a compelling example from her work – a recent Daily Catch scoop on an environmental issue captured and elevated by Google's algorithm.
The Catch broke a story about a big new solar array in Red Hook planned by the town, part of the outlet's effort to spotlight the impact of the Inflation Reduction Act for readers.
Unsurprisingly, a Google search of "Red Hook" and "solar array" produces Sachar's important local story at the top of the search results page.
"But," Sachar reiterated for me on Friday, "there is no way we will grab any ad revenue served up against that story."
Similar problems are emerging and will continue to emerge with generative AI.
Without action, Sachar emphasized, AI will spit the information out, based on our reporting, yet publishers "won't see a penny of revenue or even credit for the content."
Big Fish
Mike Reed, CEO of Gannett, the largest newspaper operator in the country, also delivered a muscular presentation in our meetings with congressional offices, dramatically noting how the industry is nearing the end of the pier after 20 years of frustration.
Legislative and legal action is the last, best hope.
Gannett publishes The Journal News and LoHud here in our area. USA TODAY is the company's flagship national newspaper, but Gannett also runs hundreds of local media outlets across 43 states, and 120 local media brands in the United Kingdom.
"Google has monopolized market trading to its advantage at the expense of publishers, readers and everyone else," Reed told me in an e-mail last Friday. "Digital advertising is the lifeblood of the online economy. Without free and fair competition for digital ad space, publishers cannot invest in their newsrooms."
Reed also noted how a Gannett lawsuit against Google aims to restore fairness in the digital advertising marketplace, a point he articulated in a blistering June op-ed, published in USA TODAY. He alleges deceptive business practices and monopolistic dominance.
Gannett's lawsuit, filed in the Southern District of New York in June, is one of several antitrust complaints made in recent years against Google over its ad tech dominance. Last month, Google made a motion to dismiss.
"It's not surprising Google wants to retain their monopoly," Gannett Chief Legal Counsel Polly Grunfeld Sack said in a prepared statement, shared with me by Lark-Marie Antón, the company's chief communications officer. "Gannett will continue seeking fair competition in the digital advertising marketplace to ensure the sustainability of essential content and journalism in the communities we serve across the country."
Given the fractured legislative and political process on the national scene, some industry leaders say solutions might have to be achieved through the courts.
The Empire Strikes Back
Facebook is also pushing back on efforts to rectify the problems.
Meta began blocking news on Facebook in Canada after the national government passed the Online News Act in June. The law compels dominant online platforms to compensate Canadian news businesses.
Despite the bullying tactics, our movement is gaining strength, and one particular senator stands out in her passion on the issue.
Last Tuesday night, on the eve of our day of meetings with legislators on the Hill, our group gathered for a reception at The Washington Post's glistening headquarters, and thanked Sen. Amy Klobuchar (D-Minn.), daughter of legendary Minnesota newspaperman Jim Klobuchar.
As much as journalists should be rightfully leery of partisan cheerleading for any elected official, some human gratitude for Klobuchar's work was more than appropriate.
The senator co-sponsored and reintroduced the JCPA in late March with her colleague from across the aisle, Sen. John Kennedy (R-La.).
They've powered the bill through the Judiciary Committee twice, with a 14-7 bipartisan vote, which is no small feat.
They were able to gain bipartisan support after narrowing the scope and removing large newspapers from the benefits, a change Klobuchar didn't agree with but accepted in negotiations.
Scrunch Time
Klobuchar pointed out how the JCPA would allow newspaper publishers to "combine their powers to actually negotiate" with Big Tech.
"The First Amendment is about freedom of the press, yes, but it's also about making sure that reporters can do their jobs and aren't scrunched by big interests that maybe don't really want them to do their jobs," the 2020 presidential candidate told us on Tuesday night at The Post. "And that is really the existential crisis I see here that's going on and why we have to fight so hard to pass these bills and to make sure that whatever happens with AI that there is adequate protections in place."
That said, and as you might imagine, any optimism over our hopes in Congress are partially muted by a recognition of the suffocating political atmosphere asphyxiating the life out of a great many worthwhile legislative efforts.
Rep. Jim Jordan (R-Ohio), chairman of the House Judiciary Committee, remains a prominent opponent to the legislative mission.
That's why advocates are also pushing statehouses to take action. Here in New York, the hope is that Gov. Kathy Hochul takes a leadership role on the issue, and incorporates the goals of a state version of the Local Journalism Sustainability Act tax credit bill into the budget.
"By informing local residents about the activities of town boards, city councils, school boards, charities, local businesses and volunteer organizations, these local newspapers inspire citizens to vote, to run for local office and to take an active role in the well-being of their communities," New York News Publishers Association Executive Director Diane Kennedy, who helped lead last week's Capitol Hill meetings, told Sachar.
Think of it this way: Here in New York, Hochul included $700 million for an expanded film industry tax credit in her Fiscal Year 2024 budget.
It seems hard to make any coherent public policy argument that says the entertainment business should receive $700 million in incentives from the state ($280 million more than before) while local journalism should receive nothing.
Because newspapers generate publicity for businesses and support local commerce, they become key drivers of economic growth, job creation and informed consumer decision-making.
"Gov. Hochul will review the legislation if it passes both houses," Janine Kava, a public information official for the governor, told me in March for an earlier column.
'Now and into the Future'
On the trip to D.C., I got to know Regina Clarkin, founding publisher and editor of PeekskillHerald.com.
Meeting with legislators and their staffers allowed publishers the opportunity to explain the value we bring to readers, she said.
Tax credits would allow news outlets to hire journalists and "pay fair and just wages," Clarkin stressed.
Passage of the JCPA, she also said, "is critical for news outlets of all sizes."
"From small operations like Peekskill Herald to larger companies such as Gannett, it's imperative for us to be to be compensated for the work we do in gathering news and reporting it," Clarkin told me in an e-mail. "Big tech companies are making a profit from the work we create."
With the notion of not letting a good crisis go to waste in mind, it's also important to remember how currently there is an opportunity to build a sturdy long-term infrastructure while also figuring out how to grapple with short-term financial peril.
"It was great to see publishers from across the country come together to the nation's capital to communicate the importance of local news and the need to protect our content now and into the future," observed Joshua Schneps, CEO and co-publisher of Schneps Media, which operates 35 newspapers including amNewYork METRO and METRO Philadelphia, free weekday dailies.
'Unfettered Power'
There's also growing energy from third-party organizations to address the threat to the industry.
At The Washington Post reception, I met Dr. Courtney C. Radsch, the director at the Center for Journalism & Liberty.
The center, which is part of the Open Markets Institute, convened journalists, policymakers (including Klobuchar) and industry advocates last Wednesday for a discussion on press freedom and efforts by Big Tech to censor news and torpedo legislation to protect the news.
Minister of Canadian Heritage Pascale St-Onge spoke at the event about the considerable pressure from Meta and Google to block the Online News Act and other such solutions.
Radsch said the crisis facing journalism is a result of legal regulatory frameworks that privilege tech platforms over the press while "giving Big Tech unfettered power to set the rules."
She said the JCPA is part of the solution to rebalance the playing field, allowing news outlets to collectively negotiate with "the most powerful corporations on Earth."
"Of course," she added in an e-mail to me, "we also need to break up their monopolies on digital advertising, cloud services and the like, but news media bargaining codes like the JCPA are an important aspect of redressing power imbalances that are clearly detrimental to democracy."
The center works to ensure that news outlets remain strong, independent and sustainable. It also runs a Technology & Media Fair Compensation Framework tracker, which includes information about related legislation around the world, plus several sets of policy primers and analyses.
Expanding News Deserts
Although myriad factors have contributed to the spread of misinformation and disinformation across the globe, and the interconnected rise of authoritarianism, the bloodletting of newspapers has corresponded closely.
Despite the bashing of national media, trust in surviving local news has largely endured. More than seven in 10 adults in a Poynter survey, for example, expressed confidence in their local paper.
Yet 20-plus percent of people in the U.S. live in a "news desert," or in communities at risk of becoming one.
While the ACLU contends the JCPA infringes upon platforms' First Amendment rights and restricts public access to news, it's essential to acknowledge that sustaining quality journalism necessitates a viable business model.
Just a quarter-century ago no one would have been so presumptuous to assume newspapers should freely share all of our information and then expect us to remain financially viable.
Sure, there are free publications (Examiner print editions included) but they can only thrive if operating within a fair marketplace with the revenue needed to pay reporters, editors, photographers, designers, distributors, administrators, marketers, printers and the rest.
And while it was great to get the news last month of organizations pledging more than $500 million for a five-year initiative called "Press Forward" aimed at supporting local journalism, the philanthropy isn't nearly enough.
You're Up
In 2020, after the pandemic struck and Examiner Media faced its own existential business crisis, it was you, our readers, who decided how much you valued local journalism, sending us hundreds of much-needed and morale-boosting donations through a COVID-19 Local News Fund.
This time, instead of money, I'd like to ask those of you who are passionate about these issues to take a minute to do some quick and easy advocacy.
Contact your member of Congress, tell them to pass the JCPA, and ask Gov. Hochul to support the tax credit.
At the end of the day, we're here to serve and help you live your most intelligent local life.
Our goal is to keep you informed, and forge community in the process.
Your voice can help us fulfill that vital mission for the long term.
Gratefully,
Adam