Murphy, Panel Tackle Sober Home Reform at Pace Forum
We are part of The Trust Project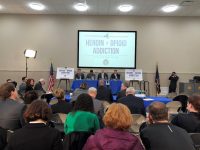 State Senator Terrence Murphy (R-Yorktown) hosted a public forum last week with members of a Senate task force, health care experts and residents to gather information that can be used to regulate sober living homes.
With the homes currently not licensed or funded by state or local government and no requirement to offer formal treatment services, Murphy has charged that the residences are more focused on profit than recovery.
Sober home residents typically pay their own rent and are self-reliant but are monitored around the clock. It is designed to help recovering addicts who have completed inpatient or outpatient programs transition back into society.
"The function of a sober home is to act as a safe setting for someone with the need to avoid drugs and alcohol," Murphy said at the February 15 forum at Pace University in Pleasantville. "There are currently no rules on how to run a sober home. We want to bring light and share information that can ultimately lead to a set of standards for these facilities."
James and Catherine McWilliam, whose 18-year-old son Hank overdosed and died in 2015 at Constellations Recovery in on Underhill Avenue in Yorktown, stressed that sober living homes aren't properly caring for residents and must be regulated.
Catherine McWilliam said sober living is an unnecessary business and the system is "garbage."
"The fact that we have to sit here and actually ask – no beg – for somebody to regulate these places is insane. Why would this not be regulated?" McWilliam said. "Hank is not the first person to have died in sober living in the State of New York and he probably won't be the last one, but this is about saving the next life and doing the right thing. It's not about politics, it's about common sense and there needs to be regulation and rules and real ones – real certifications, real education, all that needs to be real, not just talked about."
Yorktown resident Pia Riverso said there's an urgent need for uniform legislation covering the classification, operation, oversight and review of sober living residences. She added the concerns Yorktown residents had when Constellations opened after they fought for stronger regulations and certifications were dismissed.
Stephanie Marquesano, who heads The Harris Project, said the model failed her 19-year-old son Harris. He died of an accidental overdose 36 hours after being discharged from a sober home in 2013.
Sen. Frank Akshar (R-Binghamton), a member of the Senate Task Force on Heroin and Opioid Addiction, shared his regrets that the state hadn't exercised adequate due diligence to put forth legislation to prevent both deaths. He told Marquesano and McWilliam that their sons didn't die in vain.
"This is why we have asked the community, drug and alcohol treatment providers and the people on the front lines running these houses, to come here this evening," said Sen. George Amedore, Jr. (R-Rotterdam). "We want grassroots information that is pertinent so we can fix the system before another family has to suffer."
Maureen McKenna, assistant director for Rockaway Houses, said that sober houses are necessary for recovery. She said her facility is funded on the belief that every individual needs to be willing to change.
"We are not in this for the money, and many of our house managers and staff are former clients," she said. "We have the experience and we know how to run safe sober homes, and more than willing to work with legislators to establish standards that would improve clients' chances for recovery."
County Executive George Latimer said Westchester is currently working to provide support to treatment and recovery programs, advising the task force to improve enforcement, insurance and education. He added that the county will cooperate with the task force, adding that the topic is the "most bipartisan issue within the state."
Judge James Reitz, who has overseen the Putnam County Judicial Diversion/Treatment Court since 2007, emphasized the importance of allocating funds to help people receive treatment and successfully transition back into society.
"If we all work together and pool our resources and have a common interest in working together and solving this problem, there is no issue, whether it's drugs, alcohol, heroin, whatever it is, we can and will solve this," Reitz said.