Business Profile: MTK Tavern, Mount Kisco
We are part of The Trust Project
If what came before MTK Tavern was a spirited Irish pub, what you'll find now is a more sedate gastro pub/tavern offering what owner Jeff Rosen describes as "new American eclectic" fare.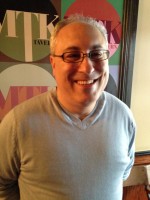 Local patrons aren't only coming for the food but for the live music that has attracted a loyal following since MTK Tavern opened two years ago.
While Rosen did much work to the tavern's interior, transforming what was once a rear lounge and billiards into a comfortable space for private parties, for example, he maintained the tavern's signature stage, something that has become the centerpiece of its popular music nights.
"Music has been a part of the tavern since day one as well as our bar and cocktail area," said Rosen, a Bedford resident.
And there's not just one style of music featured at MTK. On Wednesday nights, the tavern hosts a country music jam; on Thursdays, visitors will hear a blend of blues, rock and singer/songwriter specials, all part of the tavern's "Thursday Night Supper Club."
The Performance Series includes monthly shows and an interview of the featured artist on the MTK website.
"I like to work with local acts and tribute bands," said Rosen, who previously had a lengthy career in the corporate world.
While the bar area is comfortable enough to eat at, some choose to dine in the restaurant's wood-paneled lounge area in the back. The room is outfitted with a leather couch, coffee tables, sofas and chairs. It also includes a large screen TV that is a popular draw for people who want to watch events like the Super Bowl and the Academy Awards in a cozy, home-like setting.
What also sets MTK Tavern apart is its selection of cocktails. A professional mixologist, a member of the New York Bartenders Guild, has designed 12 to 15 specialized drinks for customers to enjoy.
Some of the more popular drinks include the "Rain Organic Vodka," with fresh juices and house-made hibiscus tea, and "The Cable Car," a grand Marnier with spiced rum, fresh juices and a cinnamon sugared-rim. The bar stocks close to 100 spirits, including tequilas, bourbons and a variety of craft beers.
Visitors to the tavern have been raving about the delicious food that's available at MTK, which found itself on Westchester Magazine's Top Five restaurant list last year. The menu includes an assortment of burgers, sandwiches, salads and an appetizer section called "Little Plates and Crocks."
Some of the popular dishes have been the quinoa salad, which consists of grilled eggplant, roasted winter squash, pomegranate seeds and arugula, for $9; the schnitzel sandwich, consisting of pork cutlet, fried egg, caramelized onions, crimini mushrooms and capers, all on a potato bun, for $14; and the MTK raw bar that's available Friday through Sunday. Daily specials are also available.
In addition to the tasty fare, Rosen said MTK Tavern's atmosphere appeals to many, from families who want to sit down for an early evening meal to the crowd looking to grab a few drinks and take in the tavern's music offerings.
"Where else would one be as comfortable on a Friday or Saturday night?" Rosen asked. "Plus, we've the added advantage of providing live music, which many people have come to appreciate."
With the success of MTK Tavern, Rosen is mindful of his good fortune, and eagerly gives back to the local community. He has supported nonprofits such as the Boys & Girls Club and Abbott House and his restaurant donates to a local food pantry.
A calendar of upcoming events can be found on MTK Tavern's website at www.mtktavern.com. It is located at 30 E. Main St. in Mount Kisco. Doors open Tuesday through Sunday at 11:30 a.m. Closed Mondays. To book a private function, call 914-218-3334.
Colette Connolly is a copywriter and p.r. expert. She owns Connolly Communications, which is based in Bronxville, New York. Colette specializes in providing content-rich, SEO-optimized press releases, articles, newsletters, brochures, and customer success stories.