MTA Monopole Proposal Roundly Criticized in Patterson
We are part of The Trust Project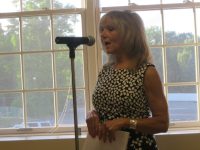 Putnam County Legislature Chairwoman Ginny Nacerino joined other Patterson residents in criticizing the MTA's plan to construct a police monopole on Route 164 at the June 8 town board meeting.
In his Sept. 23, 2015 letter to the town, Michael Coan, chief of department for the MTA explained why the Route 164 site was chosen. The pole is needed to improve radio system communication for MTA police and for mutual aid, he stated. During a 2015 meeting with the town, locations for the monopole were discussed, but the Route 164 site is the most appropriate, he stated. Town-owned property on Cornwall Hill Road would not be appropriate for the pole because it would create radio frequency coverage gaps in the area, he stated.
At last week's meeting, Supervisor Richard Williams said the town had recently offered an alternative site for the pole on the town landfill. But the idea was rejected by the MTA because it said the state Department of Environmental Conservation feared potential environmental damage if the membrane of the garbage landfill was punctured, Williams said. However, Williams said the pole could be placed on a portion of the landfill in which the membrane would not be threatened.
Williams said the administration of Putnam County Executive MaryEllen Odell agrees with the current Route 164 location for the monopole because it would improve communication for local emergency responders. "At this point," there is nothing the town can do to stop the construction of the pole, though he was scheduled to speak with MTA officials to continue to express his opposition on June 10, Williams said. Under federal law municipalities cannot stop the placement of a cell phone tower, he noted
Nacerino said though she has been working to stop the placement of the pole on Route 164 since last October, she just recently learned that the Odell administration favored the MTA's plan.
Putnam County officials are also exploring a second cell tower project that could place a second tower in Patterson as part of the project that would have the county working in conjunction with Homeland Towers, which would construct a series of towers throughout Putnam in an effort to improve wireless coverage for emergency services workers, Nacerino said. "It's in the planning process," she said.
Two town residents expressed their opposition to the tall tower being constructed in their neighborhood. Bruce Major said the pole would be used not only by police and other emergency services workers, but also for Internet access for commuters riding Metro-North trains. The pole should be placed in an alternative location so it would not be viewed by his house, Major said.
Another resident, Frank Malizia, also said there should be another location that would be away from his residential neighborhood.
Photo caption one: The MTA is attempting to place a monopole in Patterson for improved communication and many residents aren't happy.