Mt. Pleasant Town Attorney Resigns; Board Searches for Replacement
We are part of The Trust Project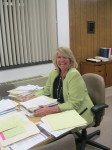 The Mount Pleasant Town Board must decide where it will obtain legal services for the municipality after officials learned last week that Town Attorney Gerald Reilly is leaving his post.
Supervisor Joan Maybury announced on Jan. 2 that the board is scheduled to accept Reilly's resignation when it meets tonight (Tuesday). Reilly, who earns $65,000 a year in his capacity as town attorney, has held the position for about eight years.
"He's moving on another opportunity," Maybury said, adding that Reilly did not tell her what that new opportunity would be.
A message left for Reilly last week was not returned.
Maybury said the board needed to determine if it wanted to hire a law firm or one individual who would take on most of the town's legal work.
While deciding how to replace Reilly, the board will need to hire attorneys on a contractual basis. The town needs representation on issues such as potentially creating an industrial development agency to attract business to Mount Pleasant and to handle tax certiorari cases, Maybury said.
Councilman Mark Rubeo, who is an attorney, said if the board decided to hire a firm to provide legal services it could seek to have those services paid via flat fees rather than hourly billing in an effort to hold down costs.
"There's no set way to do this," he said.
Maybury is expected to announce at Tuesday's board meeting that the town will accept resumes for attorney candidates, although the board will not necessarily commit to hiring anyone they interview.
Parking Rates to Rise
Also on Tuesday night, the board is scheduled to raise commuter parking rates at the three town-owned lots at Metro-North stations.
Following a public hearing, Maybury said the town board is likely to increase the fee for annual parking passes for town residents from the current $195 to $210. The price of a parking pass for a full-time student commuting to an educational institution would rise from $50 to $75.
For the first time, seniors who want a one-day parking pass would pay $5; currently there is no charge. Weekly parking permits for town residents would rise from $10 to $15. A weekly parking pass for a non-resident would remain at $25.
"There were no increases in 2012," Maybury said. "Our expenses are going up."
The town has 650 spaces in its parking lots, which includes two in Hawthorne and one in Valhalla.
Even with the higher rates, Mount Pleasant would continue to have the least expensive train station parking fees in the county, Maybury said.
Tuesday night's public hearing on the parking rate increases is scheduled for 7:30 p.m. at town hall.