Mt. Kisco's Heller's Shoes to Close After 57 Years in Business
We are part of The Trust Project
By Susie Dummit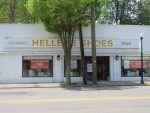 Loyal customers of Heller's Shoes will have to find another place to buy their footwear as the popular Mount Kisco shop will soon be going out of business.
Following closure of Heller's Pleasantville location about five years ago, the Mount Kisco store located at 92 South Moger Ave. is set to shut down within the next month, said owner Larry Heller.
Heller, 77, said he founded the business with the intention of providing good service and high-quality footwear, standing by that guarantee until the end. Like many retail merchants, he cites declining business as the result of growing online competition from Amazon and other massive corporations.
Heller said while other areas of downtown have struggled, he doesn't believe there is any connection to shrinking sales at his store.
"I want to say it had an impact," Heller stated. "But we did a fortune of business long before those stores even were here."
Though many treasured local stores can't seem to keep themselves afloat, there are those who think that Mount Kisco and its downtown have turned a corner. Cathy Deutsch, owner of Tiger Lily boutique, said after 17 years in the area she believes there is a renaissance.
"The new leadership in the Chamber of Commerce and Board of Trustees are extremely invested in the arts and beautification of the area," Deutsch said. "They're inspiring the right type of new stores to come in."
Those statements seem to align with Mayor Gina Picinich's view of the downtown. Plenty of new businesses have opened or have plans to come in bringing a fresh energy back into Mount Kisco, she said. Shoppers could soon be seeing companies such as HomeGoods, Raymond James, Jaguar and a new Party City location on their travels through the downtown.
"This is the natural evolution of many retail businesses across our country and not at all unique to our village," Picinich said. "All of this is evidence that changes made to our Planning Board and in our Building Department are having a positive impact."
In place of Heller's there will soon be Mast Brothers Chocolate, a Brooklyn-based, family-run business that is well-known for its extravagant yet simple treats. The chocolatiers look forward to their new home in Westchester.
For Heller, it was a great run in Mount Kisco but his business has run its course.
"It's bittersweet, but it's time," Heller said.