Mt. Kisco to Create Unpaid Parking Tickets Dismissal Policy
We are part of The Trust Project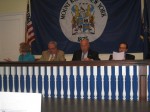 Mount Kisco officials plan to create a policy to eliminate old unpaid parking tickets from the municipality's records in response to a recent audit by state Comptroller Thomas DiNapoli.
The report released to the public this week by the comptroller's office recommended that officials incorporate written policies and procedures for identifying uncollectible tickets and removing them from the records. There is about $1.65 million in total uncollected tickets, and those that have little or no chance of being collected should be eliminated to highlight that the potential revenue will be unavailable to the village.
"It is the Board's responsibility to develop appropriate policies to define how to determine parking ticket collectability and when to deem parking tickets uncollectible and remove them from the records," the audit stated. "Further, unpaid parking tickets expected to be available to help finance village/town activities should be reported as receivables at year end provided the village/town has a legal claim to the resources, and any receivables remaining unpaid for several years should be deemed uncollectible and removed from the accounting records."
Despite an excellent collection rate of more than 90 percent from 2008 to 2012, the village still has 12,792 unpaid parking tickets totaling $1.2 million that have been outstanding for more than five years and 7,187 unpaid tickets covering less than five years and worth $450,260, according to the audit.
Village Manager James Palmer agreed that the board should develop a policy on how to eliminate the old tickets that are unlikely to be collected. Some of the unpaid parking tickets date from the late 1980s, he said.
The village has a contract with Complus Data to help it recover the fines and penalties, with a percentage of the money going to the company, Palmer said.
Mayor Michael Cindrich agreed with Palmer's idea to incorporate a policy.
Parking Debit Cards
On another parking related matter, Palmer said the village was now accepting a new method of payment for meters at three municipal lots.
Motorists can purchase village issued debit cards that can be used in the North Moger, South Moger and Blackeby parking lots. Debit cards can be bought at village hall, located at 104 Main St., during business hours. At least $20 must be placed on a debit card at time of purchase, Palmer said.
Instructions on how to use the new cards will be provided by the tax receiver's office.
For more information, call 914-241-0500 and dial 3 under the departmental directory. Calls can be made on weekdays between 8:30 a.m. and 4:30 p.m.