Mount Kisco Police Merger With County Still on Target for June 1
We are part of The Trust Project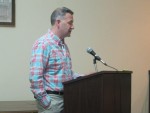 Despite the Mount Kisco police union still negotiating fine points to the pending merger with the Westchester County Department of Public Safety, consolidation is scheduled to go into effect on June 1.
Kieran O'Leary, a department of public safety spokesman, said last week the intermunicipal agreement previously approved by the village board and the Board of Legislators was approved by the county Board of Acquisition and Contract last Thursday.
Meanwhile, negotiations between the village, the Police Benevolent Association and the county continue. The final legislative step is the approval of the eventual Memorandum of Understanding (MOU) that is being negotiated, O'Leary said.
"It is needed because general county policy is to only accept transfers into our department at the rank of police officer," O'Leary explained. "Since we are taking the Mount Kisco personnel with their existing ranks…the agreement is required. Our PBA has already signed off on it. It similarly has to go before the Board of Legislators as a formality."
The merger to begin providing county police services to Mount Kisco next Monday is "still on target," he said.
The issue was addressed during public comments at the May 18 village board meeting by two critics of the plan, Kim Terlizzi and her husband, Louis. a Mount Kisco police lieutenant.
Kim Terlizzi said many residents continue to oppose the move. She had submitted a petition several weeks ago containing signatures from about 800 residents calling for a referendum on the IMA. A referendum is required because the village was eliminating the police department, Terlizzi contended.
Village Attorney Whitney Singleton said a vote was unnecessary because the department wasn't being abolished and some current officers would continue to work in the village.
"There's no violation of the law," he said.
Louis Terlizzi said he was concerned if the village wanted to terminate the arrangement with the county. Singleton responded that the village can end the agreement "any time it wants."  If it was then unable to contract with another municipality for police services, Mount Kisco could rehire its former officers, Trustee Peter Grunthal said.
But Terlizzi said rehiring police officers would be "cost prohibitive."