Mount Kisco Police Advise Residents about Coyotes
We are part of The Trust Project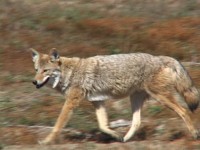 In the wake of the recent killing of a dog by coyotes earlier this month, the Mount Kisco Police Department is advising village residents on how to deal with the animals.
The dog was killed in the northeastern corner of the village on the morning on Aug. 2 and there was a coyote sighting that night.
Though police said on Aug. 9 there had been no subsequent incidents involving coyotes, the police department advised residents to take precautions.
"Coyotes are hunters, and primarily feed on rodents, insects, and small animals, including rabbits, squirrels, and small deer," according to a statement from the police department. "They are normally timid around humans, but some coyotes in suburban areas have lost their fear of people, which can be dangerous. It is important to act aggressively to maintain that natural fear."
The police told residents what to do if they come across coyotes.
"If you encounter a coyote, be aggressive," according to the statement from police "Loud noises and forceful behavior will normally scare the animal away. Wave your arms and throw sticks or stones."
The police are telling citizens to not feed coyotes or provide any food sources that could attract them including outdoor pet food or bird seed  "They may be attracted by the birds and rodents drawn to bird feeders," according to the statement, which added that garbage should be made inaccessible to coyotes.
The police are also urging residents to supervise their children when they are outside, particularly in wooded areas.
"Coyote attacks on humans can happen, although they are rare For example, in an average year in New York State, 650 people are hospitalized and one killed in dog attacks versus a handful of coyote attacks nationwide," according to police.
"The mere presence of coyotes in our community is part of the ecology of the area, and not dangerous in itself," according to police. "However, the animals' behavior should be monitored to ensure that they are not acting dangerously or aggressively, or exhibiting a lack of fear."
Pet owners should not allow their animals to run free. "Coyotes can see cats or small dogs as prey (coyotes' average weight is 35 pounds; they will usually yield their territory to mid-sized or larger dogs)," according to police.
The police are asking the public to report unusual coyote behavior to them. In the event of coyote attacks and other emergencies, the police are asking the public to call 911.
More information on coyotes can be found on the state Department of Environmental Conservation's website, http://www.dec.ny.gov/animals/6971.html.