Mount Kisco Applebee's Shuts Doors After 20 Years in Village
We are part of The Trust Project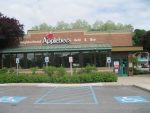 The good times are over in the neighborhood for Applebee's in Mount Kisco.
After operating for 20 years in the free-standing structure at 185 N. Bedford Rd., the casual dining chain shuttered its Mount Kisco location at the close of business last Tuesday. A sign on the front of the restaurant stated last week that it had lost its lease.
Mount Kisco Mayor Michael Cindrich said he didn't know what happened with Applebee's lease, but its closing will hurt the village, at least in the short run.
"Losing Applebee's means the loss of jobs and a prime location going dark," he said. "I believe another restaurant and two additional tenants will occupy the space."
Cindrich said Starbucks is interested in renting part of the space, but only if a proposed drive-through window is approved. However, the village code prohibits drive-throughs for food service. The village board would consider a zoning amendment, but wants to obtain an opinion from the planning board first.
The Mount Kisco Building Department has not received a formal application from Urban Edge Properties, which made a presentation to the village earlier this year pitching the Starbucks drive-through plan. That preliminary proposal also included an unnamed fast, casual restaurant and a retail store at the location.
A message left with Urban Edge Properties was not returned.
Last week, there was a wide variety of reaction to the closure of Applebee's. Katonah resident Kerry McGill said she "had no idea" the restaurant closed. McGill said its closure could be a loss for the shopping center unless a suitable replacement moves in.
"It would be a shame if it was vacant, but if something else goes in there I think it would be great," said McGill, who had not patronized Applebee's for a couple of years.
Mount Kisco resident Joan Cioffredi was also surprised at last week's development.
"I always thought they did very well there," Cioffredi said. "Starbuck's is a big hit around here."
Bedford resident Steven Tyler said he wouldn't miss Applebee's because the food "was not that good." He said a potential option for the property could be a good American buffet or another type of family restaurant.
Dora Golfetto, also of Bedford, said she enjoyed Applebee's and was surprised it had closed.
"That's such a shame," she said.
The Mount Kisco Chamber of Commerce declined to comment on the Applebee's closing.