Mosaic of Multicultural Eateries Emerge in White Plains

By Morris Gut
Downtown White Plains can now boast restaurants of almost every national persuasion. We have Italian, Irish American, Vietnamese, Indian, Greek, Israeli, Middle Eastern, Mexican has been exploding, a growing Peruvian presence, Colombian, Jamaican, Caribbean, Turkish, Mediterranean, Brazilian, Latin fusion, and more. Here is a tasty sampling.
Ambadi Kebab & Grill, 141 E. Post Rd. Mr. Alam of Mughal Palace in Valhalla brought White Plains this delightful grill that serves Indian and Halal food with many vegetarian and vegan options. Info: 914-686-2014 or visit www.ambadiusa.com.
The Banh Mi Shop, 148 Mamaroneck Ave. Once the doors were finally opened by proprietor Len Dang and his family, patronage began growing steadily. The foodie public had been clamoring for a Vietnamese restaurant in White Plains for a long time. Take-out. Limited seating. Info: call 914-686-6888. https://www.restaurantji.com/ny/white-plains/banh-mi-shop-vietnamese-sandwiches-/
Salsa Picante, 359 Mamaroneck Ave. This past summer, David Dolores took the former three-story Esposito's Ristorante along Mamaroneck Avenue and gave it a big burst of south-of-the-border pizzazz. The street level offers a blackboard menu of casual specialties, upstairs is a more formal dining experience and the dramatic rooftop has signature cocktails and specialties. Info: 914-358-1880 or visit www.salsapicantemex.com.
Colombian House, 175 Main St. A second branch of this popular New Rochelle restaurant has been in the works for White Plains for a year at the former Sofrito space. Once open, it will be serving a Latin menu. Info: Visit www.colombianhouse.com.
Falafel Place, 204 Mamaroneck Ave. Middle Eastern/Mediterranean food is the focus. The restaurant and take-out counter opened last summer and has been bustling. The company, founded by Chef Ori Apple, has another unit on Central Park Avenue in Yonkers and there is another location in Manhattan. Info: 914-902-0062 or visit www.falafelplaceny.com.
Cravin Jamaican Cuisine, 74 Mamaroneck Ave. Peter Murdock brought authentic Jamaican food to Ossining's Main Street in 2015. Now he has opened a second location in downtown White Plains. The vivid flavors of the Jamaican kitchen are right here. Take a look. Info: 914-358-5111 or visit www.cravinjc.com.
Pisco Sour Bar & Restaurant, 49 Mamaroneck Ave. Pisco Sour is the national cocktail of Peru and Chile. This bustling eatery opened a couple of weeks ago and is serving its Latin-fusion menu, but at this writing was still waiting for its liquor license. Specialties include a variety of ceviche and pollo a la brasa. Info: 914-358-1197 or visit on Facebook.
Mint Restaurant & Lounge, 19 Court St. Secrecy surrounds this sprawling space, but the paper has been removed from the windows and the interior boasts colorful tropical murals. Mint Premium Foods in Tarrytown denied any involvement. My guess is Indo-Asian, with a sister restaurant on Long Island which operates under the same name. Go to Facebook for the latest info. More on this as it develops. For a hint, visit www.mintny.com.
Qosqo Inka, 51 Mamaroneck Ave. This spot is still in the works and takes its name from the Peruvian city, which is believed to have the oldest Incan civilization in South America. The signage says Peruvian American Rotisserie and cuisine. Info: 914-437-9520 or visit on Facebook.
Fall Hudson Valley Restaurant Weeks Approaching
This popular dining out promotion sponsored by The Valley Table Magazine will feature about 100 restaurants, including participants and some new establishments from throughout the Hudson Valley. Some of these stretch into Scarsdale, White Plains, Mamaroneck and New Rochelle.
Patrons are always anxious to cash in on the seasonal bounty at reasonable prices. Restaurants are expected to offer three-course luncheons for $25.95 and three-course dinners for $35.95. Sometimes there are caveats, so be sure to verify the hours and the menus. Reservations are advised.
For additional information and an up-to-date list of participating restaurants, visit www.HudsonValleyRestaurantWeek.com.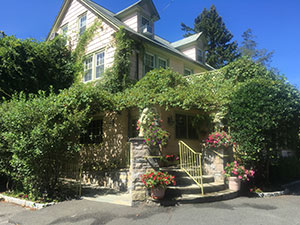 La Panetiere Closing
Pulling up to La Panetiere in Rye with its lush flowery landscaping, the charm of entering the beautifully decorated dining room and enjoying the French cuisine was a treat in any season. Proprietor Jacques Loupiac has announced his retirement after an impressive 36-year run. La Panetiere had long set the standard for upscale country French cuisine in the region.
Recalling past visits, each course was always artfully plated. Gazing around the lovely genteel dining room during a meal was soothing. The setting went well with a sip of fine wine. It felt nice to be pampered in the Gallic way. Totally delicious, it was the best way to visit Paris without leaving Westchester.
There may still be time to score a reservation. Loupiac plans to close the restaurant by the end of this month. He is still on the premises. No word yet on the fate of the property.
La Panetiere is located at 530 Milton Rd. in Rye. The restaurant is open for lunch, dinner and Sunday brunch. Reservations advised. Info 914-967-8140 or visit www.lapanetiere.com.
Morris Gut is a restaurant marketing consultant and former restaurant trade magazine editor. He has been tracking and writing about the food and dining scene in greater Westchester for 30 years. He may be reached at 914-235-6591 or by e-mail at gutreactions@optonline.net.